Once billed as a co-founder of TSR Games (3), the company formed after the trademark on TSR Games (2) lapsed (now Solarian Games), Stephen Dinehart has stepped down as CCO and won't license the TSR trademark from Ernie Gygax.
The twist comes after several "final" twists on an increasingly bizarre story. We thought it was all over when TSR Games (3) seemed to rebrand to Wonderfiled and did, but then issued a press release to say it was still around and trying to get back their rogue social media accounts. The press release made no mention of Stephen Dinehart but did ask people to ignore tweets from the TSR account, Justin LaNasa and Ernie Gygax previously.
GiantLands had been set to be one of TSR Games' first titles, used under license, but it now looks like it will not happen.
As of this morning tsr.games, the website, is branded as Wonderfiled and promotes GiantLands. The GiantLands cover now uses the Wonderfiled brand, not TSR.
It isn't known who had control of the GiantLands Twitter account when it called @MegTheSorceress, a trans girl, disgusting.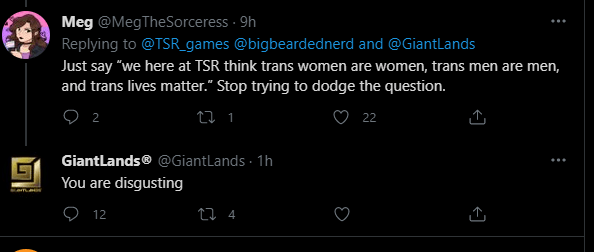 No ask is made to ignore GiantLands' previous behaviour by TSR's latest apparent communication, but if GiantLands is no longer part of the family, that may be why.
TSR Games (3.5) may not be entirely without an RPG. The company still believes it has the rights to publish (a) Star Frontiers, and it might. It just can't publish it using the D&D logo. However, Wizards of the Coast still publishes the old Star Frontiers at DriveThruRPG and you can buy it today.
Rate any comments below thumbs up or thumbs down if you find any particularly helpful or agreeable.