Onyx Path had enormous figures for the Kickstarter for Exalted 3 and learnt a lot from it. Now, years later, they're back with Exalted: Essence. This RPG is a streamlined version of the game.
If you're new to Exalted and want to test it out, trying a game that's not a Tolkien style Western fantasy, or even if you're looking to reignite your interest in Exalted, then you're the target for Essence. The RPG is fully compatible with 3e and funded, with the numbers rising on the pitch page.
The streamlined Exalted 3e will contain rules for all 10 types of Exalts.
Solars
Dragon-Blooded
Lunars
Exigents
Sidereals
Abyssals
Infernals
Getimians
Liminals
Alchemicals
That's quite a list! Typically, there are sub-types within each Exalt category.
Creation, and the myths around it, are included in the game, so new groups have an introduction to the setting. There will also be advice for running in the anime-inspired world.
The hardcover will be 8.5″ by 11″ and about 250-pages in length.
Long before our own time, there was an era of heroic adventure. In that age of sorrows strode the Exalted, the Chosen of the highest and mightiest gods.

The Realm of the Dragon-Blooded stands astride the ruins of the First Age, an empire that touches every land in Creation. For hundreds of years, its Scarlet Empress clenched an iron fist around the throat of the world. But now the Empress is gone, and the Realm spirals ever towards civil war. Enemies bare their fangs at the gates of empire, while hidden agents work in Heaven's name to break the tides of chaos. Dark powers prepare to conquer the lands of the living, and in the spaces between walk beings both alive and not. Heroes come from thwarted destinies and lost worlds and the horrors of Hell itself, or they are Chosen by lesser gods to champion a cause. Some Exalted are found in time-lost vaults awaiting their final destiny, and some of the Exalted are reborn as heroes of legend long hunted by the Realm but now free to seize their own fate.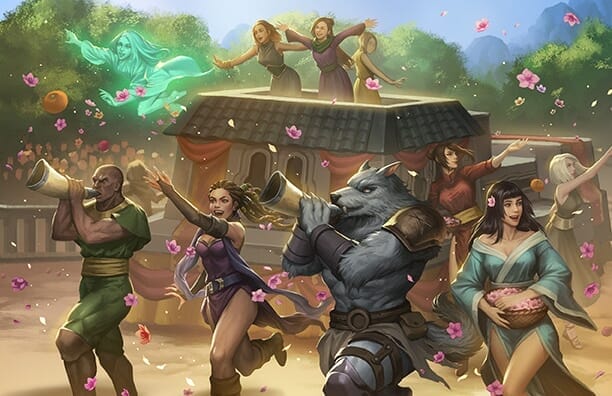 A pledge of $5 now will get you access to previews, digital add-ons and post-campaign Pledge Manager, with your name in the book.
Stepping up to $25 grants you the above perks, the PDF, a discounted print-on-demand option, and listed as an Exalt type in the deluxe hardcover.
$125 gets you the deluxe hardcover, plus the previous.
Other tiers exist, along with retailer options. Digital fulfilment is earmarked for March 2023, with the physical delivery in October.
Got something to say about this article? Let us know in the comments below.