Soulbound is the tabletop roleplaying game from Cubicle 7 set in Games Workshop's Warhammer Age of Sigmar world.
Out of all the Warhammer settings, it's the one I know least well (it is the newest), and I've been playing Warhammer roleplaying games for decades. Needless to say, there are potential gamers out there who've never heard of it. There are even gamers-in-waiting who are even yet to try a tabletop RPG.
I think the Starter Set is a compelling purchase, and I think it's suited to the gamers-in-waiting. It's no bad thing if you, or your friends, already know a bit about the Age of Sigmar.
Don't overlook the fact that the Starter Set is a box set. I did until I got my hands on it. If you're an experienced gamer, then it's maybe easy to dismiss the growth of "quickstarts", "starter sets", or even "jump starts" as either a marketing ploy or a way to get new money for old rope. I think sometimes both are true, but that doesn't mean the sets are without value.
Anything that helps recruit new players into the hobby is significant. Okay, we might not say that so often since the rise of Critical Role, celebrity gamers and D&D 5e, but it's a truism that we should never forget. The Soulbound Starter Set doesn't just help introduce new players to roleplaying in the Age of Sigmar. I think it'll impress them with high production values, attention to detail and set a crucial early reminder that not all fantasy games are Tolkien derivatives.
What's in the box?
Firstly, there's the box itself. Robust card stock and the insides are used. The front of the set contains GM tips, and the base has a map. Frankly, every tabletop gaming group would have a setting-specific map as a dice tray in the ideal world.
Since we've mentioned dice, a set of 8d6 in bold red with yellow numbers are also included. They're easy to read but not quite Instagram dice (which is now a thing, by Sigmar).
There are two brochures. I don't want to use the word "book" for either; they're too slim, too floppy! I don't think that's a bad thing, it makes them feel more approachable, and they'll live in the box and never have to stand on a bookshelf in their own right.
The first of the two is the 48-page Faltering Light. Faltering Light would be where you would start if Cubicle 7 had not been thoughtful enough to include a separate "Start here." pamphlet, which, kindly, they have been. Faltering Light introduces the basics, skirts on the world of Soulbound and then sets about bringing it to life with an adventure beneath the city of Brightspear.
You don't need to do much prep, but you need to read through the rules first. Maybe the hope was that you could do otherwise, but I just can't convince myself that anyone could cold read and run the adventure at the same time.
However, in this case, "the rules" and the adventure are the same things. Flick through the 48-pages, at least make sure you understand what's going on, the concepts, and you'll probably wing something.
The 64-page brochure is the Brightspear City Guide which does two things. It contains an adventure, a smaller one at eight pages, but it's really intended to present the sandbox.
It's the Brightspear City Guide that says, "Okay, now you have a go at creating an adventure". Not everyone can, or wants to, be a GM, but if you've the knack, I'm confident these two books, Faltering Light and the Brightspear City Guide, will find it.
Separately to the rules in Faltering Light, there are also three two-sided rules reference sheets. There's one with a focus on Tests, one on combat and another on spellcasting.
Frankly, even if you have the Soulbound core rules, these sheets are handy to have on the tabletop, so neither your nor your players need to spend time rifling through pages. I was left wondering about the thickness of some RPGs, given how well Soulbound condenses into these three sheets.
I think the best part of the Soulbound Starter Set for me are the five character sheets. Each one is designed like a small GM screen. They're about A4 sized with a whole page in the centre and folded half-pages on either side. Those half-pages close over the centre page a bit like a pair of double doors. The result doesn't feel like a homework handout that can be propped up on the table and has significant edges for rules recaps.
While I thought these character sheets, pre-generated characters appropriate for the adventure in Faltering Light and further heroics in Brightspear, are great, I did show them to a non-gamer, and they disagreed. Maybe it's was because this happened over a webcam. Still, this non-gamer was intimidated by all the rules references, the relatively small font size, and whenever Cubicle 7 used an icon rather than a word.
A disagreement like this isn't for me to say who is right or who is wrong. It's arguable as to which one of us is closest to the Starter Set's intended audience. But I will say this; don't just toss the character sheets at newbies and expect them to immediately get Soulbound. I would introduce the game concepts first and explain what they will find on the character sheets. Then, and only then, I'd turn them portrait face up and invite people to pick one that might interest them as a character for the evening's tabletop entertainment.
Lastly, but absolutely not least, there's a two-sided map with Brightspear on one side and Aspiria (part of the realm) on the other, and tokens.
The maps are great. The tokens are already the bane of the box. I've dropped three on the floor while writing this review. There are three things I wish Cubicle 7 had also added to the box, and one is a small plastic bag for the tokens.
No, really, the maps are great. I can't be the only one who immediately feels closer to a setting if there's a quick but compelling visual reference for it. Soulbound isn't traditional fantasy; it's more powerful, epic and dazzling than that, and yet there's a juxtaposition of the grim reality of the everyday people who live in the world. As a result, the art is generally first-class but sometimes hard to pin down. A good map, though, is a good map. I find Cubicle 7's Soulbound cartography to be reassuring and helpful. While the character sheets are my favourite part of the Starter Set, the double-sided map is my anchor.
Overall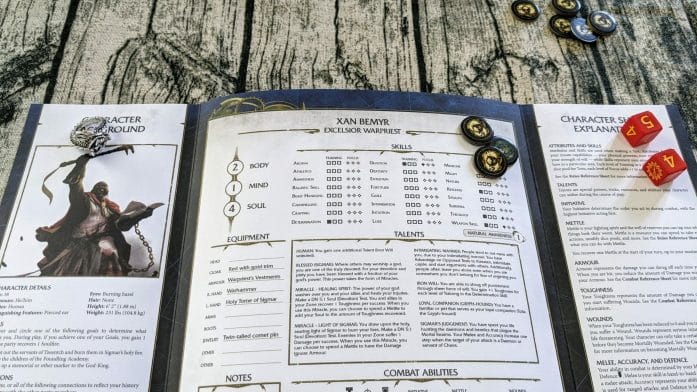 The top line summary is this; the Soulbound Starter Set is a great way to start roleplaying in the Age of Sigmar. If you've never tried running a game before, or are new to Soulbound, start here.
I can see the box set at sites like Wayland Games for about £21. Really? That seems awfully cheap. There are eight dice in this box set; frankly, you can spend more than £21 on eight dice these days.
I did mention three things I would add to the box, one of which is a bag for the tokens.
One is a ribbon. Perhaps it's my fat fingers, but I struggle to get the two books out of the robust box. I either need to yank on a loose page or tip the whole box, and neither is desirable. Would a ribbon attached to the inside, on which the books could rest, and which I could ease up be a solution?
The other is a bit of a player-friendly pitch for Soulbound. Even just a postcard with art on one side and a snappy paragraph of how Soulbound is similar but different to the fantasy they might have been expecting.
Overall, I'm impressed and not just with the pricing. I think the Starter Set is a tool to use to get friends hooked on roleplaying.
Quick Links
My copy of the Soulbound Starter Set was provided for review. It was an unexpected package in the post that I elected to review.
Got any exciting geeky news or useful RPG tools? Get in touch through the contact form.