🐙Sponsored Post paid for by Geek Native. We may earn a commission on sales.
TradeCraft Bonus is an old column here on Geek Native that's not seen the light of day since 2018.
But these are exceptional times. I find myself looking for plant pots. Small ones. Planters. And I wonder if they also be dice, at least in appearance.
Concrete Dice Plant Pot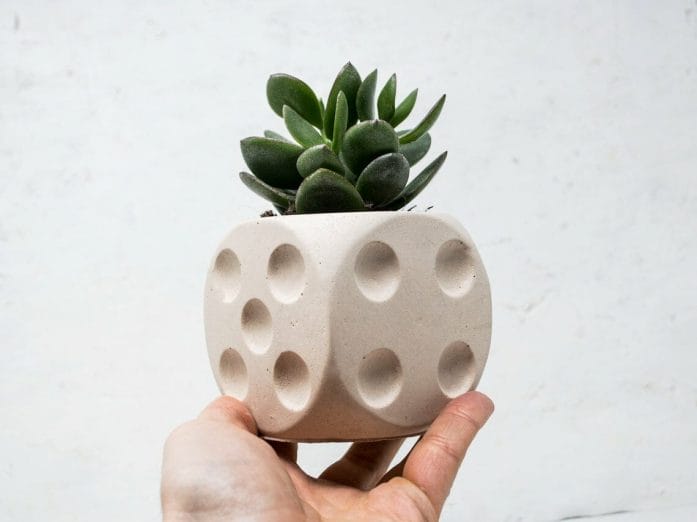 These are concrete dice and therefore not for rolling across your tabletop. They're for succulents or cacti, so these tiny plants can grow into critical successes.
Based in the UK, Elemental Design Store ships these 80mm x80mm x80mm with gift wrapping as an option.
[Show me!]
3d-Printed d20 Plant Pots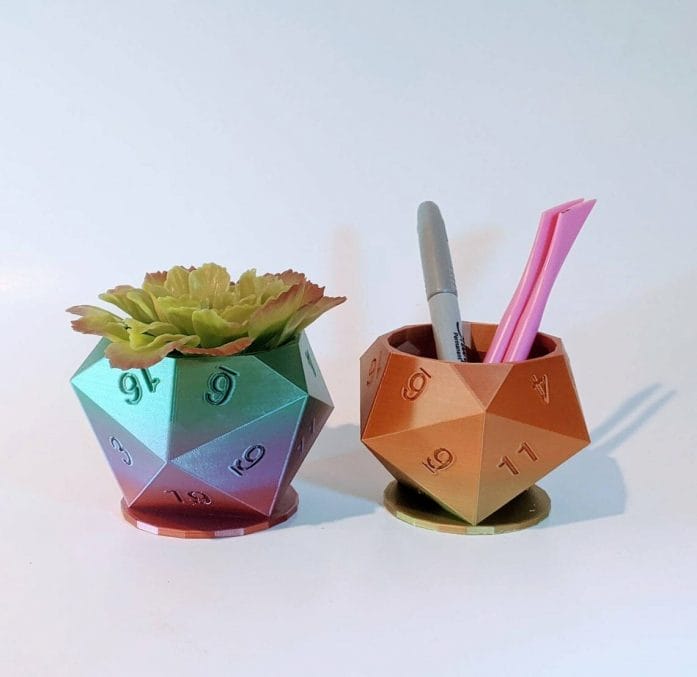 Based in the USA, Nerd Built Studio prints these pots in Rainbow Silk PLA, and the studio suggests you can use them for a desktop tidy if not for your plants.
These d20s are suitable for smaller plants, coming at 2 5/8″ tall, 4″ wide, and 2 5/8″ high.
Tabletop Dice Printed Plant Pots
Here's another set of 3d-printed dice, this time a best-seller from Burton Bunker Designs, also based in the USA.
These dice come in different colours, but as is the trend here, they're not huge. These dice tend to be 3″ by 3.5″ by 3.5″, and I imagine there's some variance there due to being appropriately shaped.
Handmade Concrete Plant Pot
We make a return to concrete planters for this post and, probably by chance, back to a United Kingdom-based store.
These planters are 8x8cm on the outside and 6.5cm by 6.5cm on the inside.
Dice Flower Vase
Okay, this handmade vase from Stiano Arts is slightly different from the designs we've seen before. It's not dice shaped. It's a small vase that's decorated with dice.
It is a small vase too and only 3.2 inches by 3.2.
The design is made by hand with alabaster, coffee apparently, and wooden ash.
The One Ring Planter
I know… not a dice at all. However, while researching my dice planters I found The One Ring from Tinker Maker AU and am very taken by it!
It's a big ring too, er, so to speak and measures up at 190mm x 190mm x 44mm if you go to the largest option.
[Rule me!]
Should I go down the dice planter route? Cool or tacky? And, more importantly, do you any tips to make sure I don't just kill any little plant I try and raise?
Start up a conversation in the comments below.