Based on the rules found in Honey Heist in the Heresy & Faith RPG, you are an acolyte of the Most Holy Inquisition.
Your task is to secure a relic and purge a cult of unbelievers.
There are two golden principles that you keep in mind at all times. Firstly, you must follow The Sacred Plan, no matter the cost. Secondly, anyone might be an enemy of the Divine All-Ruler, even YOU.
The RPG is available from Adalil at Itch.io and is marked as a Name Your Own Price.
The three images shown of the RPG effectively reveal the game, but the Itch community generally supports generous indie RPG designers.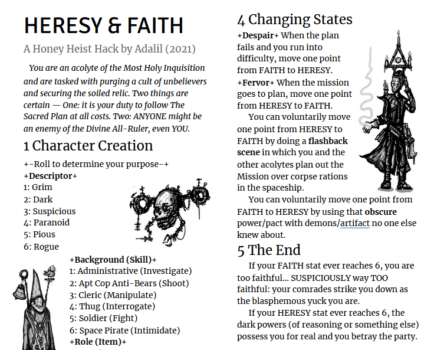 Adalil says that character sheets and other assets will be added later.
Quick Links
Brave explorer? Follow this link and you'll discover a random page on Geek Native.