MORK BORG won Best Product of the Year at the 2020 ENnies.
Putrescence Regnant is a "bog crawl" adventure for MORK BORG that comes on an LP. It's music. It's an adventure. It's a collectable, and it's doing well on Kickstarter.
The coalition of the creators of MORG BORG, the creators of Death Robot Jungle and Exalted Funeral, gave themselves to the end of the month to collect $5,000. Currently, they have over $42,000. You can follow progress on the pitch page.
There's nothing but atmosphere on that pitch video.
The Kickstarter will create the LP and a hex crawl map. One suggestion is that you listen to the LP and it'll act as the narrator for adventures on the map, the cover acting as a GM screen and random encounter table. The other and more likely approach is to use the 8-page booklet as a guide too.
Putrescence Regnant starts at $10, but that'll just get you the music in digital form.
If you do buy vinyl, then step up to $25 to get that good looking disc, the digital copy and all stretch goals.
The limited-run disc is yours at $50, and you get both discs for $66.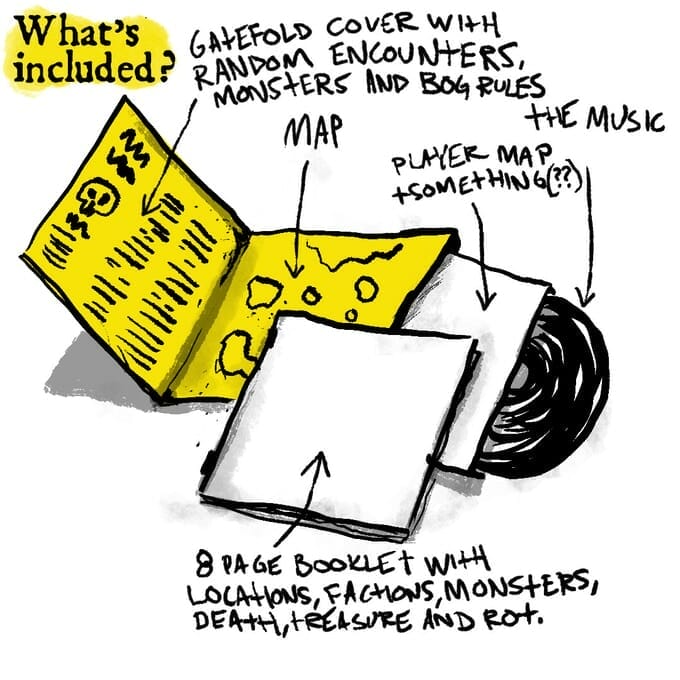 What are the stretch goals? Firstly, thanks to the success of the campaign so far there will be some copies of Putrescene Regnant made for retail.
We're also past this ominous warning;
$30,000: who are we kidding? Is an LP really going to have more than 30k funding? If we hit that mark, unforeseen prophecies will be unleashed. And it won't be pretty.
However, in selfish "what do I get?" stretch goals; there's extra content on the inner sleeve, fancy foil stamping will be added to the Kickstarter exclusive, Greg Saunders and Wayne June will also create content.
Take part in Geek Native's community by sharing a comment below.