Reddit user /u/Mavrisk593 has pulled together an impressive 25-page Homebrew on collecting & crafting in D&D.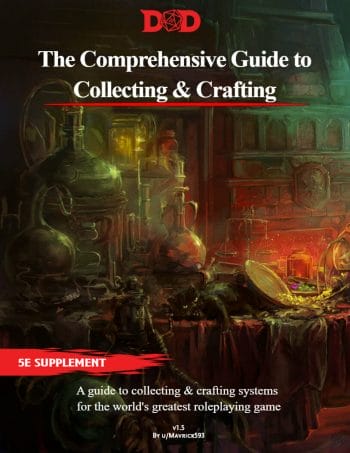 The document is a mix of core rules and other homebrew systems available on the web. Two key documents which contribute to this project are Octavian's Guide to Herbalism & Alchemy and the Wilderness Survival Guide.
There are three parts of Mavrick's work with Collecting & Crafting. Part one is all about collecting materials, part two about the alchemy and part three about crafting. However, there are two appendixes; one for ingredients and another for herbs, as well as a flora field guide and variant rules.
Within the Collecting Materials chapter, the unofficial homebrew D&D guide looks at Herbalism (finding and then harvesting), plants, creatures and then even minerals or gems from the earth.
Alchemy, the shortest chapter, offers up rules for the required skill checks and then for crafting potions and poisons.
The third chapter, the crafting and materials guide, has rules for hiring artisans to help or do the work, rarity modifiers or special materials. This leads on to the materials field guide.
What counts as materials? There's Adamantine, Aerocrystal, Asmorch Oak, Beast Feathers, Bone, Chitin, Cold Iron, Coral, Darksteel, Darkwood, Dwarvenstone, Ellond Hide, Eternal Ice and so forth.
While it's an unofficial guide and a homebrew offering, I think The Comprehensive Guide to Collecting & Crafting is a convenient resource for any DM who finds themselves dealing with a player character all about crafting. It adds depth to the rules, without much clutter.
Share your views in the comment thread below.