🐙 Disclosure: The post contributor may earn affiliate commission on sales from this page.
Advanced World Building uses the tools from 1981's Basic Dungeons & Dragons and Expert D&D and re-imagined in Old School Essentials to build a starting campaign setting. It is further enriched with the Old School Essentials Advanced Fantasy, Advanced Fantasy Monsters, and Advanced Fantasy Treasures. Even though it is based on Basic D&D, it could be used with other D&D rules or fantasy RPGs.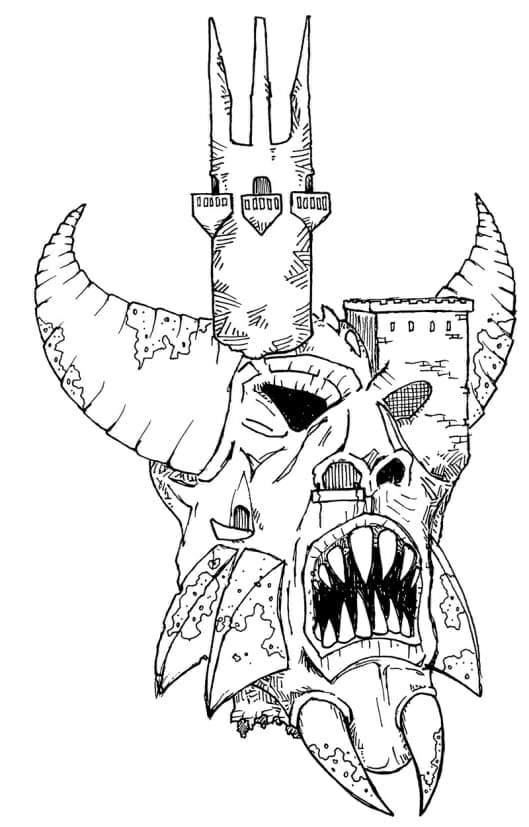 A Tower-Faced Demon castle looms over a simple village. Adventurers may simply want to loot the ruined castle and live off the recovered riches. However, if they are truly bold they could clear the ruin and lay claim to the castle. Restoring it and asking to rule it from the ruling duke would be difficult but a worthy quest.
In an earlier column, I started designing this dungeon. Several new encounters are being added this time around. These encounters also draw from the Advanced Old School Essentials books which are out to backers currently in PDF.
The adventure scenario is clearing a ruin which requires creating a dungeon ruin. Designing a dungeon consists of four steps: Choose the Setting, Choose Monsters, Map the Dungeon, and Stock the Dungeon. With this map in hand, many of the choices are already made. The setting is a tower, and the mapmaking is complete.
This location is designed for nine 1st or 2nd level PCs, and the monsters inside should not be likely to venture forth and destroy either village. If the group is only four to five PCs either add henchmen to get the number up or reduce the number of monsters encountered.
I looked at the level 1 dungeon encounters table for some ideas. While skeletons sound like a logical choice, they are monster that might march out on the village. I'm going to tuck that idea away for another time and go with something different. The tower is infested with insects that prey on each other like a tiger beetle that eats robber flies that eat killer bees. There are also fey found inside. The insects and fey are attracted by a magical living crystal statue inside.
Getting into the tower requires climbing or flying. A tongue like drawbridge will extend, and the bottom teeth drop open, but it is currently withdrawn. While the bugs inside do not have treasure, the former occupants did. Treasure scattered around will include treasure chests from the previous owner still trapped with a spray that double the chance of wandering monsters for 1d6 hours.
Here is a list of monsters wandering the tower. Roll every 2 turns (a turn is 10 minutes long) with a 1 in 6 chance (or 2 in 6 if sprayed by a treasure chest trap) of creatures appearing 2d6 x 10 feet away. If your party is only four or five in number instead of eight or nine, I recommend cutting the number encountered in half. The sprite and pixie encounters do not have to end in combat, although the faeries are mischievous and can almost seem cruel. Encounters marked with an asterisk are with advanced monsters.
Random Encounters in the Tower-Faced Demon
| D20 roll | Monster | Number |
| --- | --- | --- |
| 1 | Fire beetle | 1d8 |
| 2 | Piercer* | 3d6 |
| 3 | Green Slime | 1d4 |
| 4 | Rot grub* | 5d4 |
| 5-7 | Killer Bee | 1d10 |
| 8 | Lizard, Gecko | 1d3 |
| 9 | Spider, Crab | 1d4 |
| 10 | Frog, giant mutant* | 3d6 |
| 11 | Leprechaun* | 1 |
| 12 | Sprite | 3d6 |
| 13 | Stirge | 1d10 |
| 14 | Beetle. Oil | 1d8 |
| 15 | Pixie | 2d4 |
| 16-17 | Robber Fly | 1d6 |
| 18 | Driver Ant | 2d4 |
| 19 | Robber fly stalking killer bees | 1 and 1d5 |
| 20 | Tiger beetle stalking robber flies | 1 and 1d3 |
There is a font on the mouth and cheek level near the mouth that contains a water fiend*. Strange waters are left behind if the water fiend is defeated and if drunk take affect randomly like a potion for 1d6+6 turns:
diminution
giant strength
growth
heroism
invulnerability
polymorph self
speed
treasure finding
The effect only happens once for each drinker. A second drink does nothing. A third drink, however, transforms the imbiber and all his gear permanently into a water fiend who takes up guarding the strange waters.
The balcony on the mouth and cheek level leads to a room that is the home of a drow named Tenebrae and two giant crab spiders. An outcast, Tenebrae will try to pass herself off as a ranger but will betray the party the first chance she gets. She has a scroll of web that she is willing to trade if the party does not want her to join them.
A giant wasp* is starting to build a nest on the nostril level near the entrance. Inside the burgeoning nest is a piece of amber worth 100 gp. Burples, a gnome illusionist, also lives on this level on the west side, studying the magic of the tower and the faeries. If befriended and the wasp defeated, Burples is willing to cast invisibility on one party member.
The room beyond the entrance to the eye level is trapped. Anyone approaching within 60' inside or outside is attacked with a chromatic orb and hit unless a saving throw versus spells is made. Roll a d4 for the type of orb. The optional effect is described on page 17 of Old-School Essentials Advanced Fantasy Druid and Illusionist Spells.
| D4 roll | Color of orb | Damage | Effect |
| --- | --- | --- | --- |
| 1 | Clear | 1d4 | Light |
| 2 | Red | 1d6 | Heat |
| 3 | Orange | 1d8 | Fire |
| 4 | Black | 1d10 | Blindness |
Inside near the west staircase is a gas spore guarding the west door. In the room beyond is a treasure chest containing 400 gp and a gloves of swimming & climbing.
To the east on the eye level is room of mirrors. Anyone reflected in a mirror has a random magical spell affect them based on a d6 roll:
Chromatic orb as listed above.
Spook with a random party member designated as the caster.
Blur
Invisibility
Mirror image
Quasimorph
A necrophideus guards the door on the forehead level in the round room. Beyond the door is treasure: a coral statue worth 200 gp and a pearl of power 1.
The square tower on the forehead level contains a magical chair. Anyone sitting in the chair is randomly teleported. Roll a d4:
Atop one of the spires of the Tower-Faced Demon Castle.
To the north balcony on the balconies level.
Balcony on the cheek level.
Ground-level starting up at the teeth of the castle.
Each balcony on the balconies level contains something different. On the north balcony a statue of a feather casts levitate on anyone touching it. A cruel cockatrice lives surrounded by statues of nobility etched in stone to the south. To the east, a pseudo-dragon* has created a lair beneath a bench. If a Lawful adventurer has killed the cockatrice, the pseudo-dragon offers to become a companion. The west is trapped and opens if over 100 pounds of weight is placed on it, resulting in a fall of 60 feet to the ground below.
A living crystal statue waits on the spires level. Lambent green light pulses from its crystalline body and attracts insects and faeries alike. If this monster is defeated, the Tower-Faced Demon will be less likely to fill up with monsters going forward. The inside of the statue contains a rod of faerie fire with 5 charges. Faerie Fire is described on page 7 of Old-School Essentials Advanced Fantasy Druid and Illusionist Spells.
One the tower is cleared, the PCs may simply decide to move on. However, they might want to instead take the tower for their own and refurbish it. If the living crystal statue has been destroyed, the tower will quit attracting monsters. The PCs will have to travel to see the duke to get his blessing which could be an adventure in itself. The duke will also likely require a quest of some kind to get his blessing.
Cartography by Dyson Logos: Release the Kraken on the Tower-Faced Demon
Take part in Geek Native's community by sharing a comment below.