It's great to see Paizo running a Humble Bundle for Pathfinder second edition but watch those shipping fees.
Charities getting a boost from this sale are The National Urban League, The Carl Brandon Society and NAACP Legal Defense Fund. So, let's take a look at the tiers.
Pay £4 (PDF tier)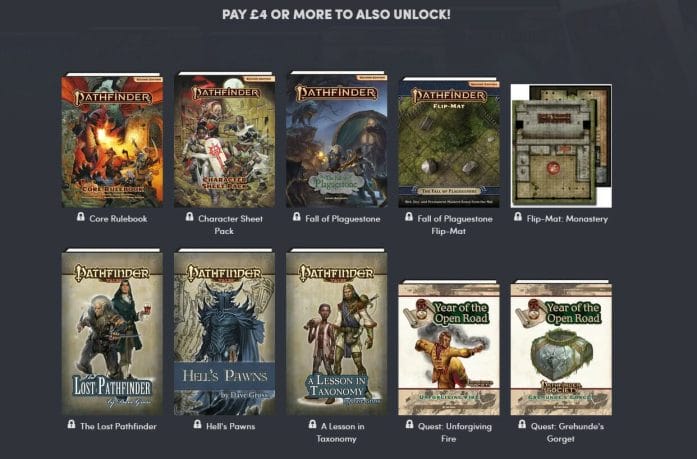 Core Rulebook
Character Sheet Pack
Fall of Plaguestone
Fall of Plaguestone Flip-Mat
Flip-Mat: Monastery
The Lost Pathfinder
Hell's Pawns
A Lesson in Taxonomy
Quest: Unforgiving Fire
Quest: Grehunde's Gorget
Flip-Mat Classic: Pirate Ship
Pay £8 (PDF tier)
Lost Omens World Guide
Plague of Light
The Illusionist
Hell or High Water
A Passage to Absalom
PFS Quest: Port Peril Pub Crawl
PFS Scenario: Trailblazer's Bounty
Flip-Mat: Tavern Multipack
Flip Mat: Falls & Rapids
Flip-Mat Classic: Swamp
Flip-Mat: Wicked Dungeon
Pay £16 (PDF tier)
Bestiary
Lost Omens Character Guide
The Treasure of Far Thallai
Killing Time
Husks
The Compass Stone
PFS Scenario: Flooded King's Court
PFS Scenario: Tarnbreaker's Trail
Flip-Mat: Mythos Dungeon
Flip-Mat: Bigger Sewer
Flip-Mat: Bigger Forest
Flip-Mat: Winter Forest
Map Pack: Frozen Sites
Pay £24 (book tier)
Pathfinder 2nd edition core rules
What does shipping look like? Continental US up to $20, Europe up to $65, Canada up to $45 and $90 for Russia.
Still, the savings are quite remarkable and at the time of writing there are less than 20 days left for this Humble Bundle.
What do you think? Sound off in the comment section below.