You can download the 23-paged Warhammer Age of Sigmar: Soulbound adventure Crash & Burn free from DriveThruRPG or from Cubicle 7.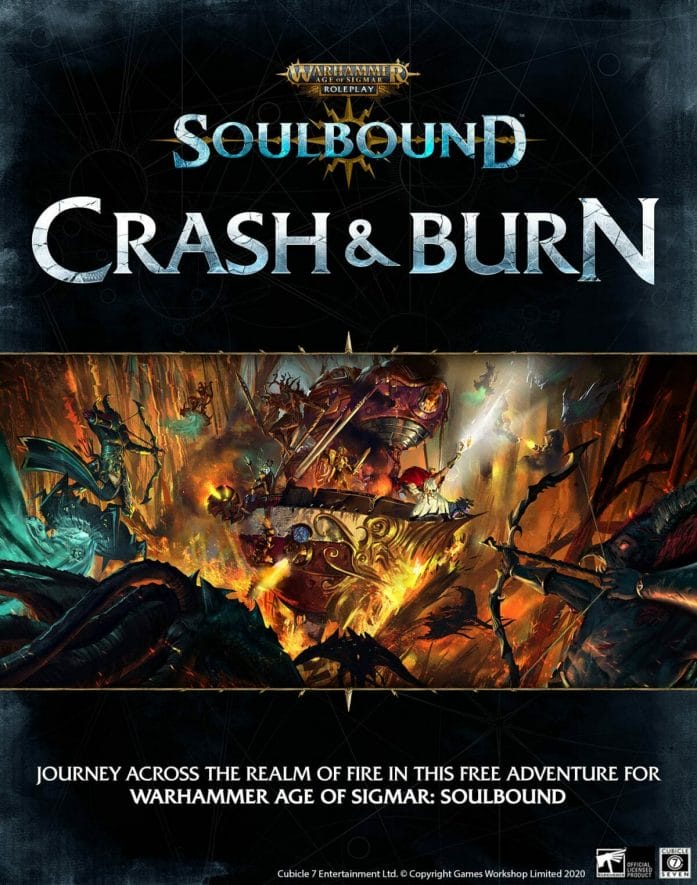 Following the cataclysmic events of the Necroquake, the newly reclaimed city of Brightspear is in desperate need of supplies and support. A huge Kharadron fleet has been assembled to bring provisions, would-be settlers, and enterprising merchants to the new city. Joining the expedition are a group of unlikely heroes — Soulbound, mortal beings chosen by the gods to defend the Mortal Realms. But even they may be no match for the trials that are to come…
The Necroquake was that moment the god of death's necrotic energy washed over the land in an explosion of magic.
Crash & Burn is designed as an introductory adventure to the newly released Warhammer RPG set in the Age of Sigmar. Soulbound is a game where characters are bound to the gods and caught in a desperate struggle against Chaos and Death.
These heroes have to cross the Realm of Fire, leaving the metropolis of Hammerhal Aqsha as part of a vast fleet of Kharadron airships filled with supplies for Brightspear.
Will Chaos stand by and let this happen? Hell no.
(I've not yet looked at the adventure… but I can't help wonder if the title is a bit of a spoiler!)
Crash & Burn is the second free adventure that Cubicle 7 has given away in two weeks. The first is Graveyard Shift which is for the newly re-released Warhammer 40K RPG Wrath & Glory.
Both are available from DriveThruRPG.
Have you already started playing Warhammer: Soulbound? What do you make of the latest addition to the Warhammer RPG family? Let us know in the comments below.