The sales site Humble Bundle has just launched a new deal, and it's all about cosplay. There's a total of $605 of goodies up for grabs and, as usual, tiers start at just $1.
Take me to the Cosplay Like a Pro bundle.
Pay £1 tier
Getting started with Cosplay – A Beginner's Guide by Svetlana Quindt
First Time Sewing by Editors of Creative Publishing international
Sewing 101 Revised and Updated by Editors of Creative Publishing international
Sewing Machine Magic by Lincecum, Steffani
The Hero's Closet: Sewing for Cosplay and Costuming by Gillian Conahan
The Mood Guide to Fabric and Fashion: The Essential Guide From the World's Most Famous Fabric Store by Mood Designer Fabrics
Foamsmith: How to Create Foam Armor Costumes by Bill Doran
Pay £6.50 tier
First Time Garment Fitting by Sarah Veblen
The Complete Photo Guide to Clothing Construction by Christine Haynes
Singer New Sewing Essentials by Editors of Creative Publishing International
Mending Matters: Stitch, Patch, and Repair Your Favorite Denim & More by Katrina Rodabaugh
The Book of Foam Armor – Comfy & Affordable by Svetlana Quindt
Foamsmith 2 by Bill Doran
A Robot's Guide To: Sanding by Steven Meissner
Cosplay Makeup Tips and Tricks
Pay £12 tier
The Cosplay Handbook: A Book of Cosplay and Prop Making Techniques by Grace Herbert
The Complete Photo Guide to Perfect Fitting by Sarah Veblen
Singer the Complete Photo Guide to Sewing (3rd Edition) by Nancy Langdon
Advanced Prop Making – Creating Guns & Rifles by Svetlana Quindt
Advanced Armor Making – Helmets & Pauldrons by Svetlana Quindt
Painting and Weathering for Props and Replicas by Harrison Krix
Steampunk & Cosplay Fashion Design & Illustration by Samantha Crossland
The Spoonflower Handbook: A DIY Guide to Designing Fabric, Wallpaper & Gift Wrap with 30+ Projects by Stephen Fraser, Judi Ketteler, Becka Rahn
Pay £14.50 tier
1,000 Incredible Cosplay and Costuming Ideas by Yaya Ha, Allison DeBlasio, Joey Marsocci
Tailoring by Editors of Creative Publishing international
The Spoonflower Quick-Sew Project Book: 34 DIYS to Make The Most of Your Fabric Stash by Anda Corrie
Foam Armor Fast by Bill Doran
Advanced Cosplay Painting: Airbrush and Weathering by Svetlana Quindt
Advanced Lights – Animated LEDs by Svetlana Quindt
Wig Styling for Cosplay
Te Book of Cosplay Photography – In Front and Behind the Camera by Svetlana Quindt
Pay £16 tier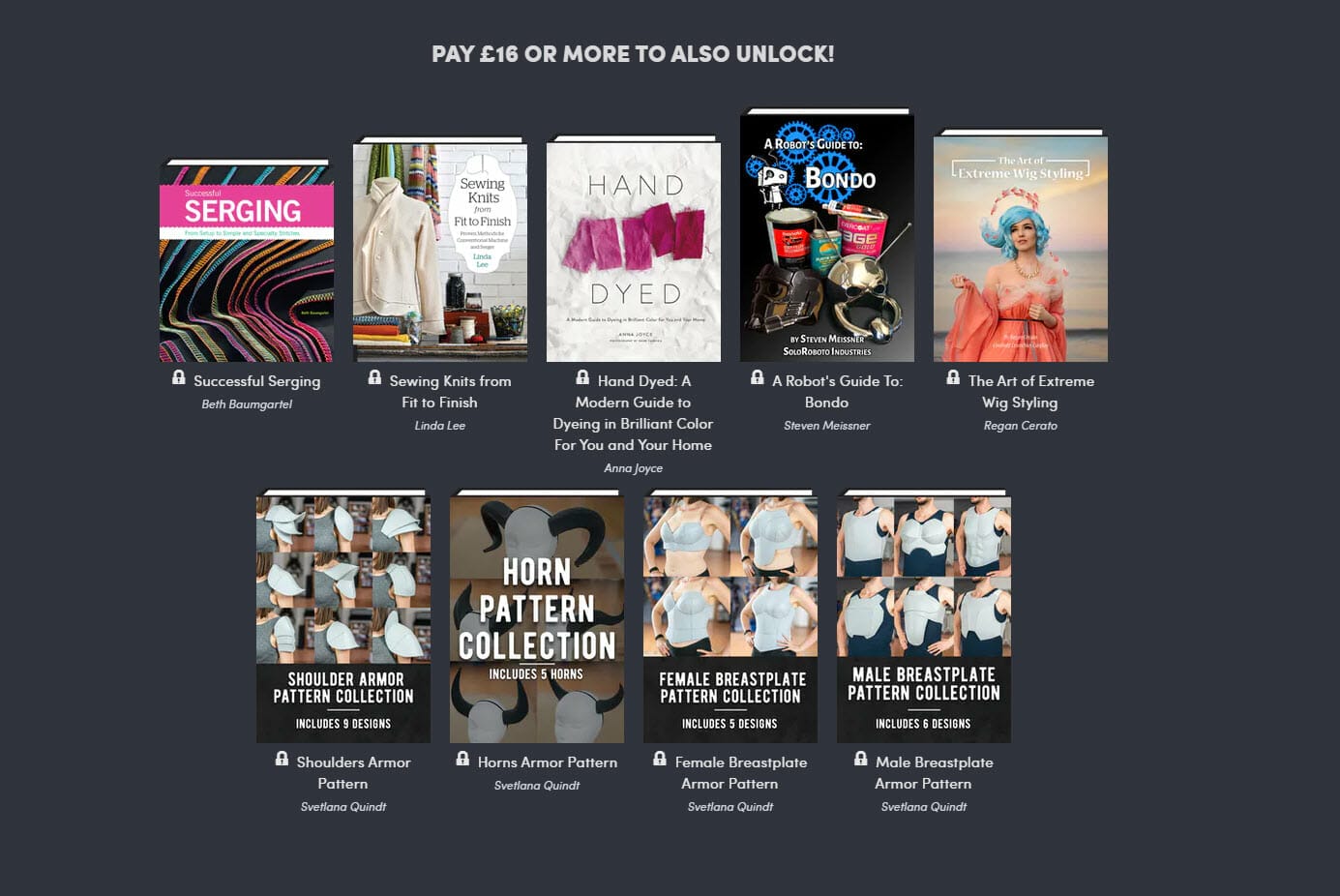 Successful Serging by Beth Baumgartel
Sewing Knits from Fit to Finish by inda Lee
Hand Dyed: A Modern Guide to Dyeing in Brilliant Color For You and Your Home by Anna Joyce
A Robot's Guide To: Bondo by Steven Meissner
The Art of Extreme Wig Styling by Regan Cerato
Shoulders Armor Pattern by Svetlana Quindt
Horns Armor Pattern by Svetlana Quindt
Female Breastplate Armor Pattern by Svetlana Quindt
Male Breastplate Armor Pattern by Svetlana Quindt
Yow, that's a big one. Purchases on Humble Bundle go to charities, which you can change, but the default on these are The Hero Initiative and the Book Industry Charitable Foundation.
Intrigued? You can look at the deals here.
What do you think? Measured observations are welcome and you can leave them in the comment section below.