Goodman Games has an Original Adventures Reincarnated line in which they take old D&D adventures, scan, tidy up and package together with a fully 5e translated version in the second half of the book. It's the best of both worlds.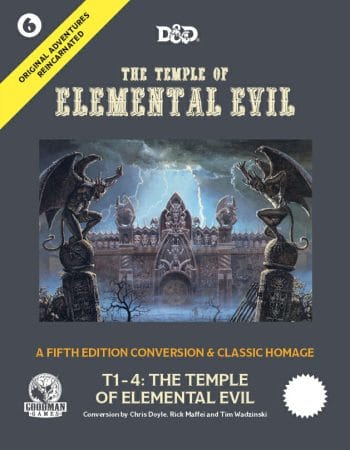 The next adventure in the line is something special. It's The Temple of Elemental Evil.
The original was written by Gary Gygax and Frank Mentzer, and while it's brutal, many consider the adventure to be TSR writing at its best.
The adventure begins at the Village of Hommlet, which is now recovering after the evil from the Temple of Elemental Evil was defeated. It was defeated, right?
The Temple of Elemental Evil has returned, in many forms, to the D&D lineup. WizKids has a Temple of Elemental Evil board game and Monte Cook wrote Return to the Temple of Elemental Evil for D&D 3 back in 2001.
Before Wizards and Onebookshelf launched the DM's Guild, the predecessor site D&D Classics listed scanned old adventures. While the D&D Basic Set was the best seller on the site after launch, T1-4 Temple of Elemental Evil for 1st edition was the next most popular.
You can read the full announcement at Goodman Games.
Join in the discussion below, start us off or pop over to the chat portal.