When Kris McClanahan shared the artwork for this magazine cover, Geek Native got in touch. Tabletops & Tentacles is undoubtedly an attention-grabbing name.
McClanahan was a little distracted, though. They were busy launching the Kickstarter for it and it's gone well! Funding in one day. You can join in over at the campaign page.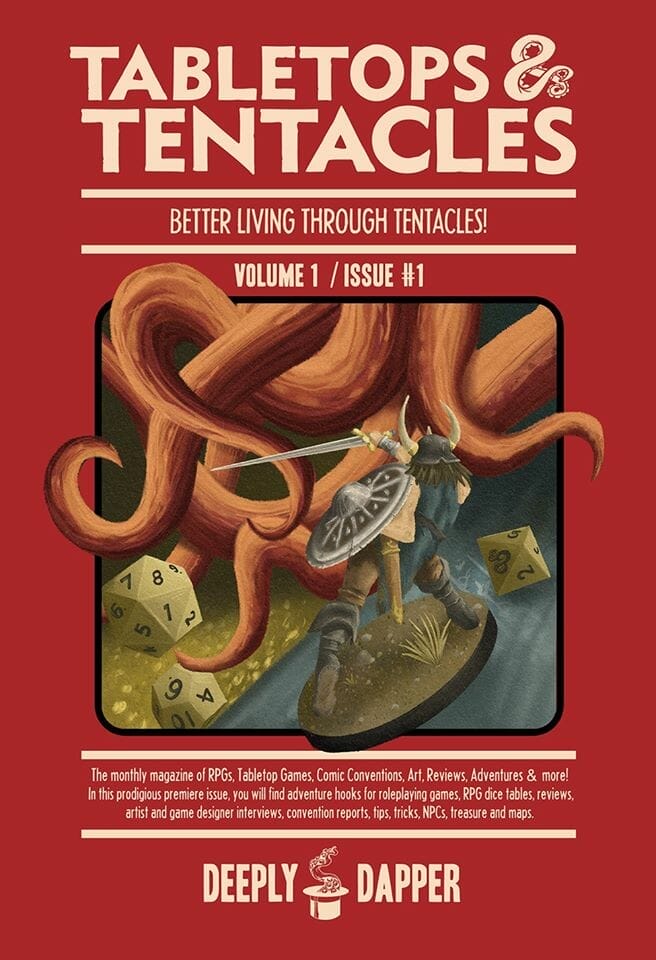 A pledge of US$5 will get you a digital copy of the magazine. US$18 will get you a printed and a digital edition, but it'll only ship to certain countries.
If you're already in love; you can subscribe straight away.
You can check out the magazine's own microsite at Deeply Dapper Games or the Patreon at the heart of it all.
Deeply Dapper's Tabletops and Tentacles
Despite being super busy launching a successful Kickstarter, Kris McClanahan did respond to our probing questions!
What's Tabletops & Tentacles?
Tabletops and Tentacles is my tribute to the magazines I loved growing up – RPG adventures and resources, tabletop games, short fiction, film reviews, interviews with artists and creators and a lot of bad jokes. It will be a monthly magazine released though our Patreon and sold at conventions and online as both a digital magazine and in printed 6×9 digest form.
Can you tell us about the Kickstarter? When might it launch?
Though the bulk of the year will be released through Patreon, we decided to launch the first issue with a bang on Kickstarter – That will let us reach a broader audience and make a larger, deluxe premiere issue with stretch goals and add-ons. Making a magazine is a lot of work, especially when you are doing the bulk of the art, writing and graphic design yourself, so covering some of those costs through a Kickstarter is going to be a huge help.
It launched on Tuesday and runs through the holidays, ending on January 9th. It is currently 200%+ funded and we just unlocked the fifth stretch goal. We do comic book and gaming conventions full time, so running a project this month, though not a traditional time, works the best for our schedule. It also allows us to offer a free digital gift subscription as a reward that comes with a printable card that you can give to the geek on your list about the subscription. I always used to get a magazine subscription in my stocking for Christmas every year and I wanted to capture some of that with Tabletops & Tentacles.
"We also have a full print and play card game,
Issue one will be a huge issue – we are currently estimating it at almost 100 pages and depending on how the stretch goals go, that could double by the end of the campaign. We also have a full print and play card game, printable NPC, creature and item cards for the RPG adventures and will be unlocking special add-on "ThemeZines" that will focus on content for a specific genre, like Retro Horror. We also have a free "Zero Issue" available on the campaign page and DriveThru RPG that gives a small sample of the regular columns you can expect in T&T as well as an exclusive Krampus themed adventure.
This feels like a big project for you; first, the heavy lifting of a crowdfunding campaign and then the commitment required for a regular magazine! Why have you decided to do it?
This is a huge project for us, but one I'm incredibly excited about. I've been a full time artist for seven years and always had a dozen projects in the works. I've done work for Netflix, Universal, Stranger Things, John Carpenter, Enigma the comic book, American Mythology Comics and Gallant Knight Games. We also do conventions full time – 20-30 a year, have podcasts, make geeky soaps and candles and released our first tabletop game, CREATURE FEATURES this year.
Tabletops and Tentacles is our 16th Kickstarter project, but you are totally right – it's a big beast of one compared to our previous projects and a huge time commitment as well. What has me so excited is that it's a culmination of everything we've done for the last seven years – It lets me combine my love of comics, roleplaying games, books, board games and movies into one magazine. I love playing with art styles and this gives me a broad canvas to work on. We've also met and befriended a lot of artists, authors and creators doing so many conventions over the years and I will be shamelessly taking advantage of my convention family for interesting content that doesn't usually get featured in a format like this.
Issue One's front cover draws heavily on the old-school Red Box look. Does that set the tone for the contents of the magazine?
I love dice tables and random encounter charts and weird esoteric adventure hooks.
I think to an extent, yes. I'm a Grognard, I fully admit that – I started into D&D back when I was ten, in the late 80's, when my brother and I found a pile of old Grenadier AD&D minis and a beat up rulebook in what used to be that distinctive red Elmore cover in a drawer where we were house-sitting. Between that and Heroquest, we got a bit obsessed. We used to collect all sorts of RPG systems and books – Shadowrun, Femforce, Marvel, AD&D, Batman, Werewolf, Project A-Ko… some obscure stuff. We didn't even play about half of them but, like a lot of RPG guys, we collected and read them all. I had subscriptions ot Dragon and Dungeon as well. Eventually I moved away from RPGs for a while and got into film and comics and only recently, when I moved back to my hometown started playing RPGs and boardgames again. I picked up 5E, got addicted to Kickstarter and started doing gaming conventions and rediscovered the love I had.
Tabletops & Tentacles is my attempt to capture some of that old-school vibe. Though it will be a balance of subject matter – comics, games, short fiction and movies – I love dice tables and random encounter charts and weird esoteric adventure hooks. Every issue will feature them and, while usually including 5E stats, I want to keep the adventures themselves failry system agnostic so they can be used with other RPGs. I'm more of a storyteler than a stats guy.
Are you accepting submissions for the magazine? Paying for content? Selling ad space? If people want to get involved, what's the best way for them to go about that?
This is primarily a labor of love, but we are accepting submissions for RPG content, adventures, articles and short fiction. – We've had a fairly large influx of interested creators so right now we are working on coordinating our plans for the year so we can start talking to people about inclusion. Right now, because it's so new we have more people interested in writing than backing/subscribing and it's just my wife and I doing the whole thing, so we aren't currently able to pay for content. Instead, we are working with interested people and companies to have content in the magazine in exchange for ad space and issues/print codes of the magazines they are in. I hope to change that eventually and be able to pay writers and artists as well as publish the magazine! If they would like to get involved, visiting the Patreon, Kickstarter or emailing us at [email protected] are the best ways.
What were your 2019 RPG highlights?
Apart from diving into this magazine, they've been kind of offbeat highlights – I've discovered D&D on Youtube, especially tabletop terrain crafting and painting videos. I have those on while I'm working a lot. I also finally accepted 5E and have started really diving into it. And I started GMing a group of players that have never played ANY RPGs before. Which has been… interesting, challenging and a lot of fun.
Share your views in the comment thread below.