The $24.99 Shadowrun: Six World Beginner Box has been out since early July and now, finally, you can pre-order the full game.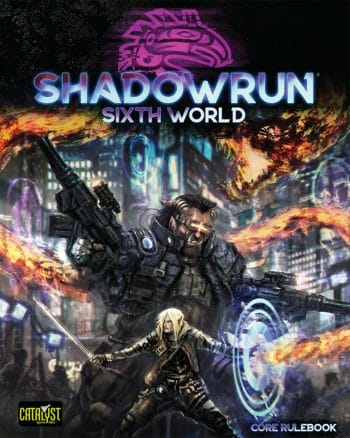 The default book costs $49.99, the Limited Edition (which comes with the PDF too) costs $99.99, and the Executive Edition (also with PDF) costs $199.99.
You can pre-order them from the Catalyst Game Labs' store.
None of these print copies will come with the nine-page errata that already exists, based off the initial and somewhat rocky feedback on the Beginner Box and Gen Con releases.
The Limited Edition has a faux-Kevlar cover, gilt-edges and a ribbon. The Executive Edition comes with a slipcover and it, and the book, are dark-blue faux-Kevlar, the paper is thicker, there are two ribbons, and each book is individually numbered to make it collectable.
I've found one Amazon.com entry, which won't show me too many details, for the default book and reveals two sellers have the book. Their lowest price is $54.99.
I still don't see a release date for the books, though. Over at EN World, Darryl Mott estimates that it is likely to expect 3 to 6 weeks between PDF release and printed copies hitting stores.
Are you looking forward to Shadowrun 6th edition? Are you planning on buying either the Limited or Executive versions?