The Dark Eye is a colossal RPG in Germany, and the English translation scooped ENnies. Publisher Ulisses Spiele is Kickstartering a magic sourcebook called Magic of Aventuria, and it funded in little over 30 minutes. You can follow the crowdfunding action here.
I wrongly assumed the campaign was going well because it was a cheap way to get The Dark Eye and goodies. There is a pledge tier that gets you the Core rules, but you need to find €111 (about £98) to do that. That's the Mercenary – Essentials Pledge which gets you The Dark Eye – Core Rules (b5), Aventurian Almanac, Aventurian Bestiary, Aventurian Map Set, Advantages and Disadvantages Card Set, Combat and Special Abilities Card Set, Adventure: Vampire of Havena, Liturgies and Ceremonies Card Set, Spells and Rituals Card Pack, Figure Pawns Set and Game Master Screen.
That's a lot of cards. It's the cards that are boosting the campaign, The Dark Eye players clearly like them. The cheapest tier is €45, and that'll get you the Magic of Aventuria in digital, Conspiracy of Mages in PDF, Legacy of the Theatre Knights in PDF, Deluxe Character Sheet for Spellcasters in PDF, Magic of Aventuria – Card Set 1 in digital and Card Set 2 in digital. You can't go smaller.
The art is lovely throughout the product range. The fact that Magic of Aventuria adds scantily dressed dancers (as a magic class) might also be helping with the eye candy.
The stretch goals are unlocking, and there are extra add-ons like an All Rolled Up dice bag or wooden boxes to put all those cards in.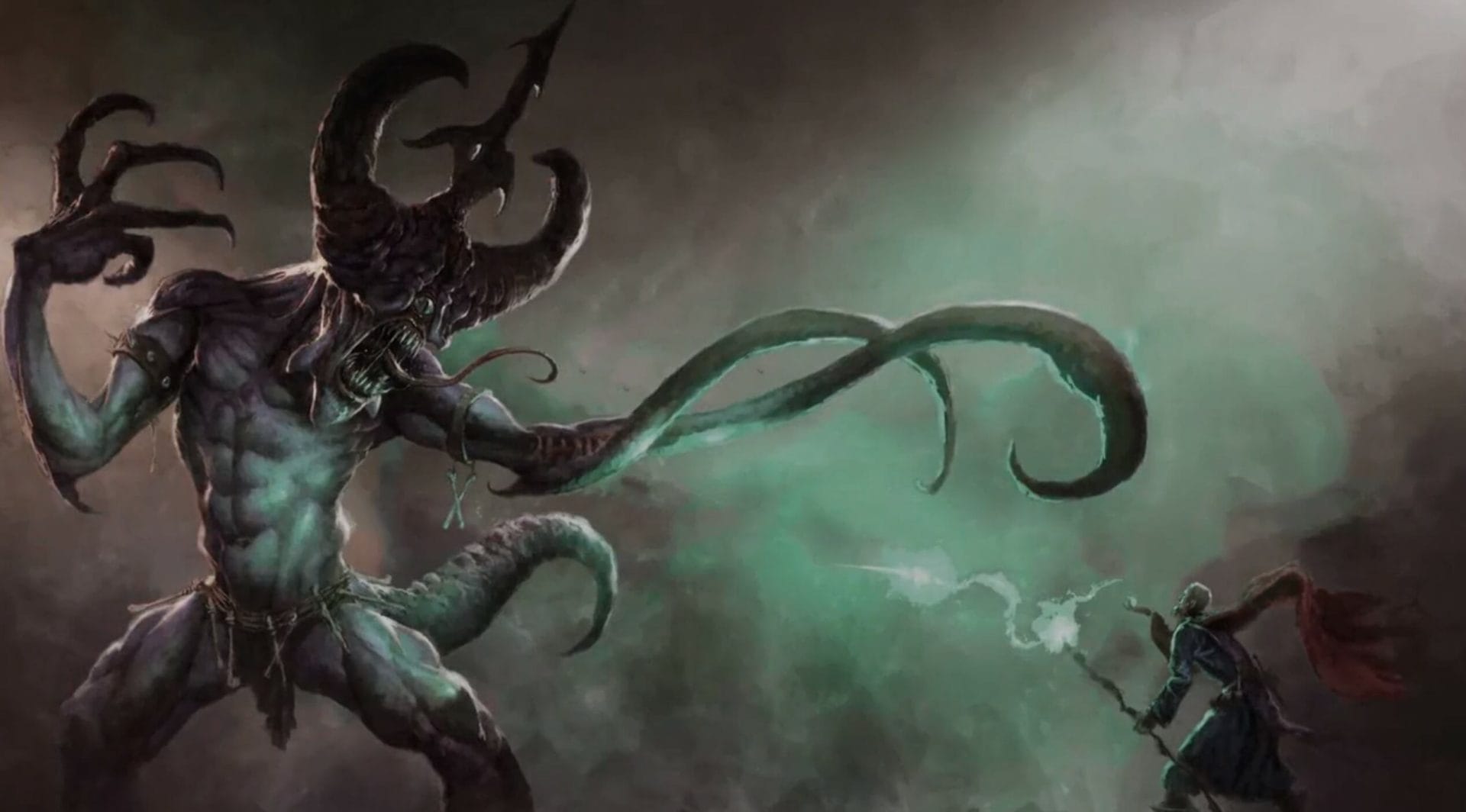 This scary beast is used in the header for the Archmage tier, €157 for limited leather cover editions.
Are you play The Dark Eye? Would you recommend Mercenary – Essentials Pledge as a good investment?
Take part in the Geek Native community by leaving a comment below.