Hasbro, the owners of Wizards of the Coast, now have a Stranger Things red box D&D set available. D&D has had a great time recently, rising out of a popularity decline and the plucky kids fondness for adventures in the smash hit Netflix show played a big part in this.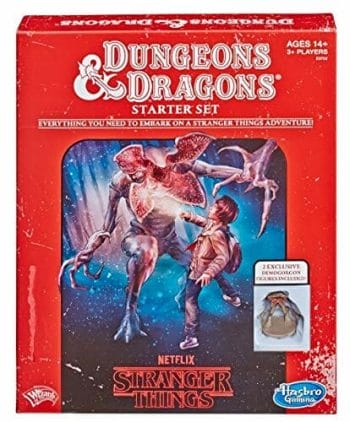 The box set contains the D&D adventure "Hunt For The Thessalhydra" which is 'created' by the show's GM, a character called Mike Wheeler, and so now you and your friends can explore the same world.
Also in the Stranger Things red box is a set of detailed rules, an adventure book, two demogorgon figures and game dice. This means the set will work as an actual starter for new players to D&D. Everything you might want is included.
Amazon US is asking $24.99 for the pre-order, the game expected to ship on May 1st of this year. While the red box is listed in Amazon UK you cannot pre-order yet nor are Amazon willing to say when you might be able to. It does look like the game will make it out of the States as Austrilian retailer Zavvi is stocking the game too, asking A$66.49 for it.
The next season of Stranger Things is due out on July 4 this year and only expected to be 8 episodes long.