When you find yourself gauging someone as a potential partner is it their mind or their body that you appreciate first?
Is your answer the one people usually give?
Geek Native asked readers about this because of aliens. That's right. The blog had a copy of Alien: Sea of Sorrows to giveaway and so ran a competition. These aliens prefer bodies. Definitely. To enter the competition readers simply had to say whether they prefer mind over body or body over mind and whether they thought their response was the usual one.
This is not a scientific survey as there was neither a large enough sample size (about 100) or enough rigour. It's very possible people just clicked random responses to enter the competition. But, still… peeking at the results might be interesting enough for a conversation or two.
If you do have an interest in weird stats like this Geek Native has a growing collection in the stats archive.
Geeks prefer minds
Over 80% of Geek Native's readers said they appreciate a good mind over a good body. Therefore, less than one in five readers rated the body as a stronger preference.
Of the readers who said they prefer bodies over minds 70% of them thought this would be the usual response. Whereas of the readers who appreciated mind over body slightly fewer of them, just under 65%, thought this was the usual response.
Is this the usual response?
35% of people who said they appreciated the mind over the body thought this would be an unusual response. In our survey, it was actually the most common.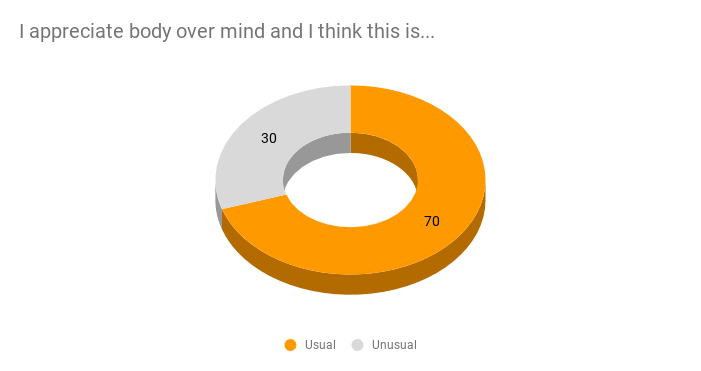 30% of readers who said they appreciated the body over mind thought their answer would be unusual. In this survey, this group was the smallest segment.
Creative Commons credit: The Greek Seduction by Dimitrios.