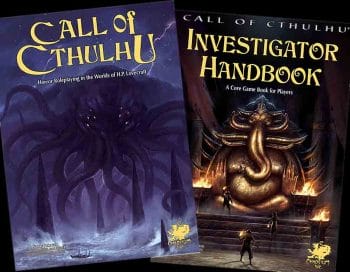 Greg Stafford and Sandy Petersen have returned to Chaosium. Petersen is the original designer of Call of Cthulhu the RPG Chaosium made famous and Stafford founded the publisher back in 1975 with a war game called White Bear and Red Moon (later renamed Dragon Pass).
In June of 2013 Chaosium raised over half a million dollars in a Kickstarter campaign to fund the 7th edition of Call of Cthulhu. Ed's reviewed both the corebooks for Geek Native. The books are good but not all the rewards have been fulfilled – some people are still waiting.
So, is this a rescue? It would be tough to say that Chaosium was struggling. Delays on Kickstarters are normal. That said; Greg Stafford who returns as President and CEO, spelt out four things the new management team aims to do.
Quickly sift and sort through the current company problems
Immediately ship the remaining Horror on the Orient Express backer rewards
Focus on the Call of Cthulhu 7th edition Kickstarter backer rewards
Return to regularly making awesome new games
That's not beating about the bush. There's the acknowledgement of problems and promises of solutions.
Are there reasons to worry? Over in a forum thread at yog-sothoth.com, Sandy Petersen got involved and moved to reassure people;
One way of looking at it is that the old Chaosium team is back again. Personally I think this is cause for rejoicing not worry.
Here at Geek Native we wish both the old and new teams well and look forward to finding out what happens next.
See any comments you like below? Give them a thumbs up in the rating system.