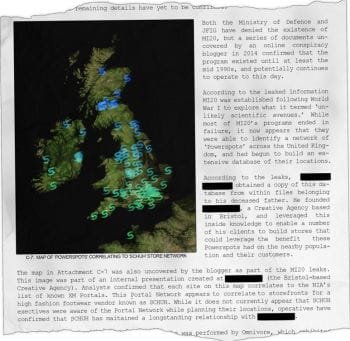 Google's alternative reality game announced today a deal with shoe retailer, Schuh, that turns their stores into portals in the game. On Google+ the Niantic Project wrote;
MI20, a secret British Intelligence Agency, uncovered a series of XM Powerspots across the UK.

It is unknown if the Agency still exists, but it seems that part of their database of Portals fell into the hands of a Bristol-based Creative Agency, which exploited the knowledge for the benefit of their clients, including a high-fashion footwear vendor known as Schuh.
Schuh has been mentioned by Geek Native before for their geeky successes.
Ingress has been around for two years and has millions of players. There are two teams; green and blue who battle for control of the portals.
The teams are poorly named.
There is one faction who believes the "exotic matter" or XM which spills from the portal can be beneficial. It can certainly be used to inspire, influence or even control thought and there is evidence that it has been used throughout history to guide human evolution forward.
The team that believes XM should be harnessed in its natural state, that it should be used for inspiration and the betterment of humanity is known as The Enlightened. It is the green team.
The rival team believes that XM must be modified, that the portals must have their frequencies changed, that it must be controlled and that free access to it would be dangerous to the public. This team is The Resistance who play in the blue.
Since the start of the game it has been discovered that there does seem to be some sort of unknown sentience, known as The Makers, who are sending mankind messages through the XM.
Looking for an Ingress plot summary? Wondering what we know about The Makers? This video recaps the first year.
This blogger helps defend the naturally occuring XM of Edinburgh on behalf of the Enlightened and has been doing so for a week. In this time I've found the Google+ community to be friendly and fun. Players cooperate and I'm reminded of a tactical LARP.
Ingress is free to download for Android and iOS and free to play. That said; if you'd like a personal invite and to be recruited into the game then drop me a message.