An unscheduled catch-up from the life of an anime fan. In Irregular Reconnaissance you'll find a collection of mini-reviews, quips and insight on a bunch of anime. The goal is to help you work out which series might earn their way into your schedule and to serve as a discussion focus for fans.
Are you watching any of the below? Seen them already? Let us know what you make of the titles discussed in the comments.
Arpeggio of the Blue Steel
Episodes 7 to 12
There's no doubt that I really enjoyed this anime. The unusual set up works, the naval battles work and even ships as cute anime girls work. That last aspect is both Arpeggio's strength and weakness. Sure, it's an easy catch to draw your interest but it also means there's a constant battle not to descend into fan service.
This surprises me but it's the naval battles that came out top for me. I had thought the mystery and politics around the Fleet of Fog that would be the anime's most interesting aspect but that was largely downplayed while the personal evolution of the ships moved to the fore.
Status: Recommended
Where: Crunchyroll | Amazon
Strike the Blood
Episodes 10 to 12
I've been struggling with this series for a while as an interesting concept had to compete for attention with ever decreasing necklines. I shouldn't be surprised as this is a vampire based storyline. The good news is that the last couple of episodes take a new twist, being it a little more character interest and hints at what the long term plot might be. Don't get me wrong, the need for busty maidens to be on tap for the vampire and cat-fights remain but at least there's the promise of an interesting mix.
Status: Not dropped, not a priority watch
Where: Crunchyroll | Amazon
Nabari
Episodes 5 to 11
I very nearly gave up on this one. It wasn't because this is a ninja story with an animation style I associated more strongly with slice of life dramas – it was because the pacing is all wrong. We're following a character that's very hard to care about. In fact, all the so-called heroes are quite hard to care about.
I asked around (including on the MCM Expo Facebook group) and fans of the manga recommended I stick with it. So I will. After all, the rival ninja clan looks a little more interesting. Worryingly, as I asked around I found plenty of anime fans who also admitted to giving up on Nabari.
Status: Not doing well; may well drop
Where: Crunchyroll | Amazon
Dragon Ball
Episodes 1 to 14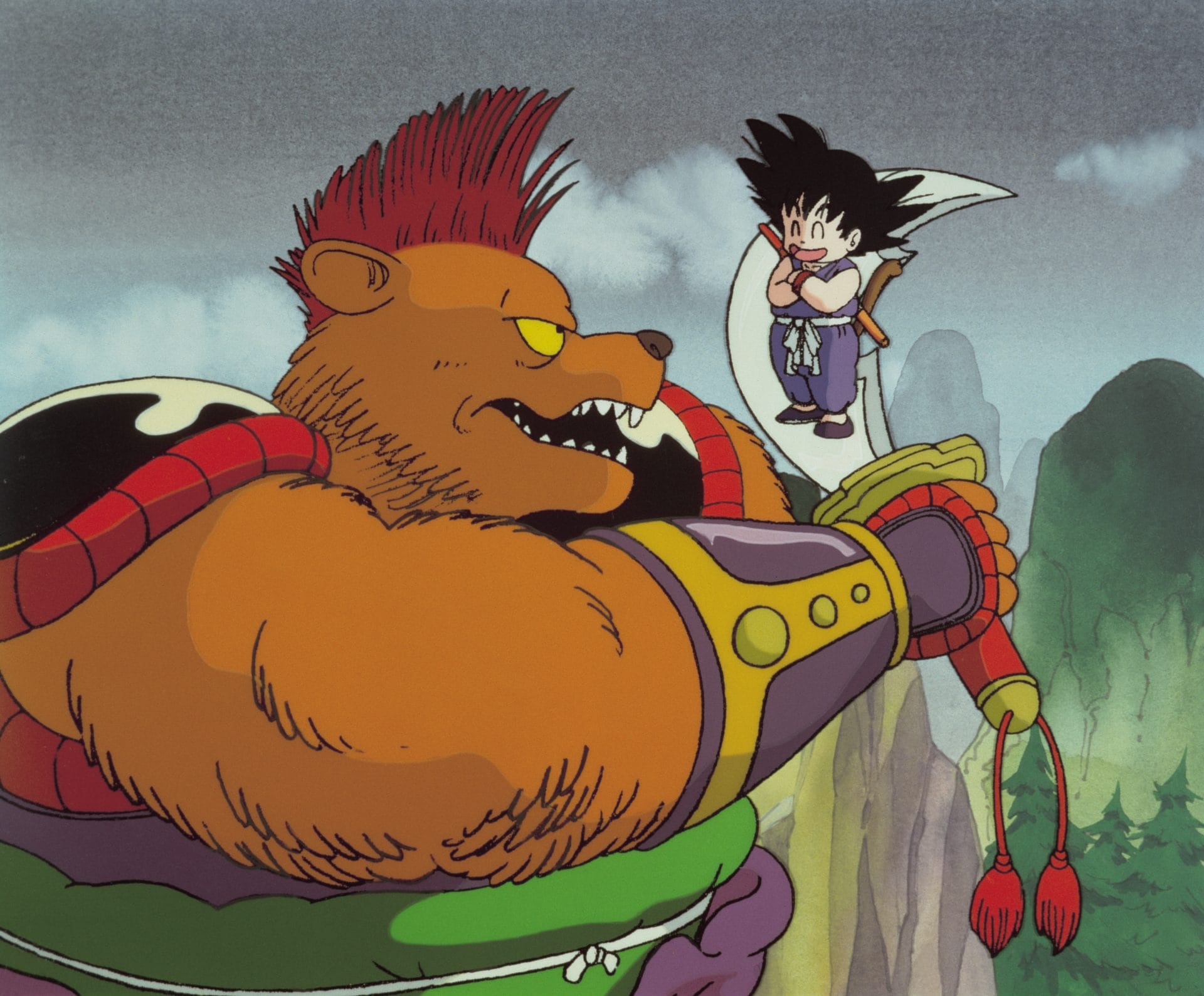 I've gone back to the beginning of Dragon Ball to watch the episodes I missed back when it first aired. There are a few reasons for this decision other than nostalgia. Firstly, I'd come to the end of Dragon Ball GT, secondly there's a new Dragon Ball movie on the way and lastly, Manga UK are re-releasing complete Dragon Ball Collections making this possible.
I'll admit. Watching Dragon Ball isn't the same as remembering Dragon Ball but I don't regret my decision. I'm filling in the blanks in my Dragon Ball mythos and watching pure Shonen action. It's almost an academic exercise in anime lore.
Status: Succumbing to nostalgia
Where: Crunchyroll | Amazon
One Piece
Episodes 111 to 130
One Piece continues with its very particular blend of action, comedy and a touch of romance and drama. The anime concludes "Collection 5" as you get up to episode 130 but don't worry as Manga UK launched "Collection 6" this May. I'm still unable to watch back to back episodes unless I'm multi-tasking (incidentally; the same applies to Adventure Time) but that works for me as Luffy's adventures work best as an anime compliment to dinner.
As it happens, the One Piece movies are the exception to this and perhaps that indicates I'm watching the show as intended. The One Piece Movie: Strong World is also due out for the 30th of June and will get a separate review.
Status: One Piece needs to be sampled. I put it on when I need an anime backdrop to multi-tasking.
Where: Crunchyroll | Amazon
Sword of Uruk (The Aegis of Uruk)
Episodes 1 to 12
The Sword of Uruk is the second season to The Tower of Druaga and is set some six months later. Jil, Fatina and the other Climbers have settled down after the shock ending of the first season. A mysterious girl shows up and once again they find themselves climbing the tower.
The Sword of Uruk is way better than the first few episodes of The Tower of Druaga but never matches to meet the heights of the final episodes of the first season. Ironically, they actually climb higher up in the tower and so enter slightly surreal realms. I suppose the Sword of Uruk was all about closure and offering us an alternative ending to the first sucker punch.
Status: I think the Tower of Druaga is the anime that improves the most from first episode to last. Watch watching just to claim you've seen it.
Where: Crunchyroll | Amazon
Magica Wars
Episode 1
I was in a strange mood. Despite having plenty of anime to watch I wanted to watch some other anime. I looked around for something that might interest and settled on Magica Wars. I hadn't done any research. This was not what I was expecting.
Only four minutes long, including the fairly lengthy credits, I'm not sure what this is. The random adventures of a magic girl, I suspect, but without much in the way of context or promise and only surreal drama to make do with.
Status: Dropped like a rock
Where: Crunchyroll
Blade and Soul
Episode 1
After my failure with Magica Wars, I kept on looking for a different anime to watch and Blade and Soul came highly recommended. I can see why. There is lots of promise here; a good fantasy mythos, plenty of grim and gritty, good action and the promise of great character development.
We follow the talented Alka has she escapes the Empire and into the village of Koga. She's taken in by the village who need a bodyguard but could have both sides just made a big mistake?
Status: Tempted, likely to dive in if/when I find time
Where: Crunchyroll
All reviews based on real-life anime watching. The titles here include those watched legally online and those provided by review by Manga UK.