The Mazaki No Fantaji RPG has set itself an ambitious goal in Kickstarter. The cinematic game is asking for $16,000 to fund and that's more than some of the big name publishers have done. There's still just about two weeks left and they've raised $7,000.
Can they do it? This will require a last minute surge. That's certainly not impossible. Those gamers who watch Kickstarter will have seen it again and again. The question is whether Mazaki No Fantaji is worth it? Let's take a look?
I like the low level pledges. There's no attempt to sneak a dollar from you with the rather poor promise of keeping you in the loop. The first pledge is for $9 and that gets you a credit. The next pledge is for $15 and that gets you the PDF copy of the game.
The hardcopy back begins at £39. That's not too shabby too but the international shipping of $30 is a bit of a bugger. Is that Anthropos Games taking the piss? I don't think so. I think that's them not having easy access to any international warehouses.
Mazaki No Fantaji catches my attention as it takes the unusual angle of describing itself as lewd. Okay, it says;
Whether your group is simulationist, narrativist, or gamist; Mazaki will captivate. The Tile-based system is crazy versatile. And because you come up with the qualitative triggers, the game is precisely as funny, light, lewd, witty, or heady as your players are.
Makazi sounds different. It sounds evolved. It doesn't sound like the sort of game that gets played at high schools.
That said, after I try and embrace the difference, I do worry about the tile-based system. Tiles always seem to create faff and drama. They go missing. You have to make them.
Combine the drama of possible tile making with the fact that the game first appears as PDF and you start to think about printing dramas.
As it happens there's a free to download quickstart. You can pick up Mazaki No Fantaji at Drivethru RPG for a mighty $0.00.
I've not backed a Kickstarter in a while… but I think I'll shoot for the PDF of this.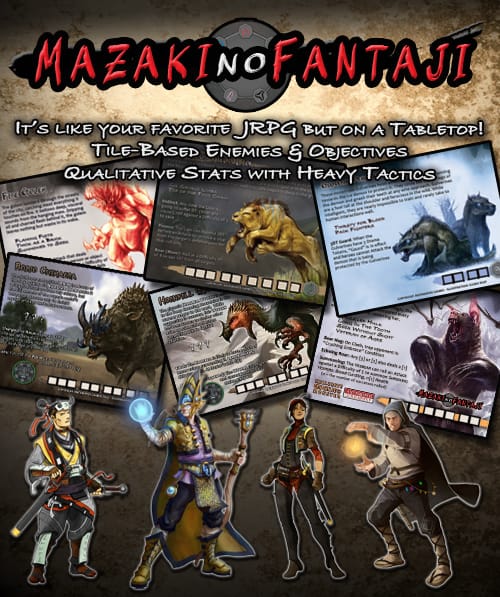 Let us know your thoughts in the comments below.