Geek Native's Patrons can vote in the last RPG Publisher Spotlight poll of the year. That means these brave site and podcast supporters are picking who'll be selected for the first feature of 2023.
The winner for December is Handiwork Games. Handiwork publishes games like the grim a|state, 5e two-player Beowulf and psychedelic Mesolithic Maskwitches of the Forgotten Doggerland.
The five candidates for January are:
Ready and able to vote? Patrons can do so from this private link.
Latest competition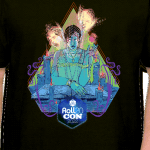 Competition: Roll20Con 2022 and Roll vs Evil t-shirt
-
To date, the charity's JustGiving page says £25,00 has been raised by nearly 200 supporters, which includes companies like Roll20. [...]
Join the discussion and leave a comment below.