Cosy Coven is a new publisher and has launched on Kickstarter with an RPG set in Wild of the First Millenium That Could Have Been, and it uses Free League's Year Zero Engine.
The Polish team have set a $10,000 goal and barely two weeks to hit that target, but the launch is going well, and you can see the details on the Kickstarter page.
Touched by the Gods is a role playing game of gods of the past songs, of heroes destined to great deeds and greater deaths, and of a folk that stood on the edge of total annihilation. The game is set in the time when almost the entire world was covered with vast, dense forest, called the Wild.

Touched by the Gods uses the widely acclaimed Year Zero Engine, originally created by Free League, and used in such games like Mutant Year Zero, Alien RPG, or One Ring. This chunky book is a complete, standalone game that will allow you to learn the rules in a short and easy manner. It also contains a full campaign that shows the world of the Wild and the Slavic mythology (or our take on it) in the most entertaining and immersive way.
There's a free to download Quickstart hosted on Dropbox. That means you don't need an account anywhere to download it.
A pledge of $29 is required to get the Touched by the Gods PDF, the Starter Booklet in PDF and the Map of the Wild.
Or, if you want the hardcover, that's added to the rewards for backers at the $49 mark.
The loot pile grows again at $69, with two sets of dice also joining the offerings and then again at $88 with a card set and GM screen.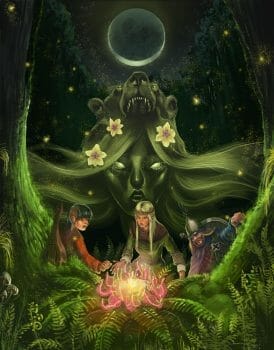 The delivery of the physical products is estimated by Cosy Coven for January 2023, while the PDFs are slated for November 2022.
Replying to other comments to this article with helpful observations can boost your karma.