🐙Sponsored Post paid for by Geek Native. We may earn a commission on sales.
It's a limited edition dragon. There will only be 400 of these hugely impressive Tiamat statues from Sideshow.
Awesome is expensive. The pre-order, expected in April-ish, dragons cost around $2,000. Yes. Ouch. My treasure hoard is lacking.
No longer imprisoned in the Nine Hells, Tiamat makes her triumphant ascent and claims the Well of Dragons as her lair."
The legendary terror is 28″ high, 21″ wide and has a depth of 37.5″. Tiamat's base is 15″ wide, 16″ deep and covered in lava.
Sideshow suggests that Tiamat has Initimdation +17. They also say Attention-Getting at +26. Well, the dragon certainly got my attention, and if she got my guests' attention, I imagine the conversation might go like this;
Guest; "Can I pick it up?"
Me; "No!"
I mean, this dragon will take a lung to secure.
Sideshow also says that Tiamat has Dust Resistance at +10, and I've got to call Bluff on that. Dust will be in the dragon cult, I know it will, and it'll take every chance to cling to scales.
The intricate beauty in all its horror has the acid black dragon head, the poison green head, the fire red head, the lightning blue head and the cold breath wielding white head.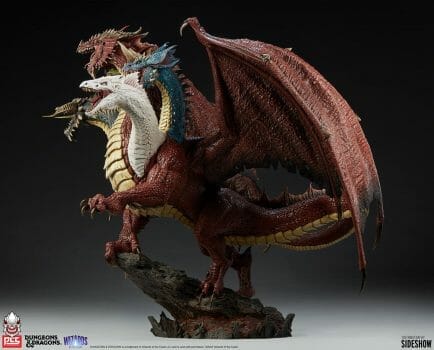 This limited edition Tiamat is official and made by PCS. I imagine the 400 will sell out.
There have been Tiamat statues before, some of which look similar at a distance, but the devil is the details. Getting close enough to see them might be a challenge, though. However, you'll easily be able to find rival models on Geek Native.
Quick Links
Scroll down to the comment box below to join in the discussion.