Hey, sometimes it's okay to be different. I'm used to seeing pitches for dice; gorgeous dice, cheap dice, rare or boutique dice. I've seen plenty of metal dice, too, designed to be lightweight and agile or gothic and mysterious, but the undead dice approach is rarer.
Unique Dice is a company carving skeleton heads and hands onto solid metal, and those are your dice. The Kickstarter asked for $3,000 to forge ahead, and within days, it smashed through the $15,000 line. You can find out more on the project page.
Geek Native might also get money from Unique Dice. You see Facebook ads for tech or fashion Kickstarters all the time. Board games campaigns keep my social feeds filled, which often happens, through third parties taking a fee and a cut of the pie. Any campaign can provide a tracking solution and split the cash without offering a flat fee, but most tabletop games do not.
Yes, it would help this blog if they do, but it's hard enough being a tabletop publisher, so I don't ask. But Unique Dice has, and Geek Native could make 15% on any pledges made. Want a slice? It's not unique to the blog, you can join via instructions on the project.
But, with that extra layer of transparency and (hopefully) educational aside done, let's return to the dice!
I've loads of pictures.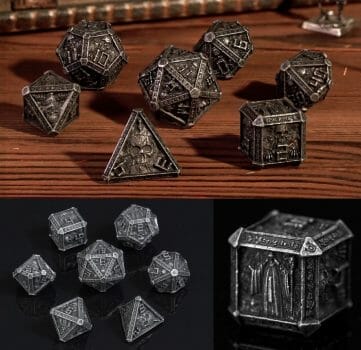 Supporters with enough cash get dice as rewards.
If you can pledge $32, you can get 5d6, suitable for games like poker.
A bit higher, at $36, you get 2d6 and 2d10, and at $39, there's the basic d4 to d00 RPG set.
In each case, you get a choice of colours.
After this, you also get bonuses, and at $69, there's the gamer set, a free d20, a blind box and an undead box.
Then, at $105, you get both the gamer dice and the d6 set, a mixed undead dice set, a free d20, and undead and blind boxes.
It's a dramatic leap up to $579 next, and you get 10x the level before. I imagine this is for gaming stores, shops or clubs.
Unique Dice estimates they'll be shipping out all these metal and skeletal hands by October.
Comment and share your thoughts on this article in the section below.