Christopher Helton's Patreon-spawned cinematic toolkit RPG Action Heroes has been bought.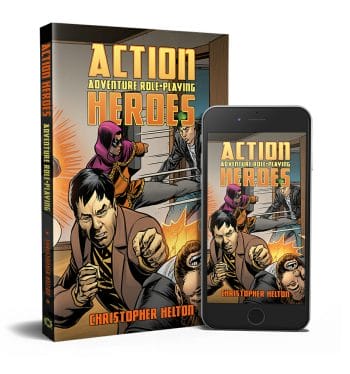 Outland Entertainment, the Tombpunk publisher, has picked up the game and will take it to Kickstarter.
In a twist or an expectation, Christopher Helton is also Outland's Game Director. Work just bought an employee's Patreon-funded side-gig. A good outcome.
Christopher Helton said;
Action-Heroes is a game that I had been running at conventions during the couple of years leading up to the pandemic
The game takes a traditional RPG approach and blends in story-based mechanics, emphasising a safe space for widescreen-style drama. It's about collaborative world-building while prompting players to do big and important things with their heroes.
An ashcan edition, completely playable, will be launched before the Kickstarter. The complete rules will add magic and have more world-building tips and guidelines.
Outland is lining up their expansive collection of settings for Action-Heroes RPGs, comics and fiction are planned.
Geek Native's policy is not to copy and paste entire press releases, though we do use quotes and comments from them. As often as possible, articles here contain analysis, observation and denote speculation. You can read the site's commitment to accuracy and disclosure here.