🐙Sponsored Post paid for by Geek Native. We may earn a commission on sales.
It's classic anime good enough to be fashionable, and they're available from geeky shopping siren Truffle Shuffle.
We're talking about two Cowboy Bebop black anime tees with 100% pre-shrunk cotton, which is unisex, soft, and official.
Cowboy Bebop Gradient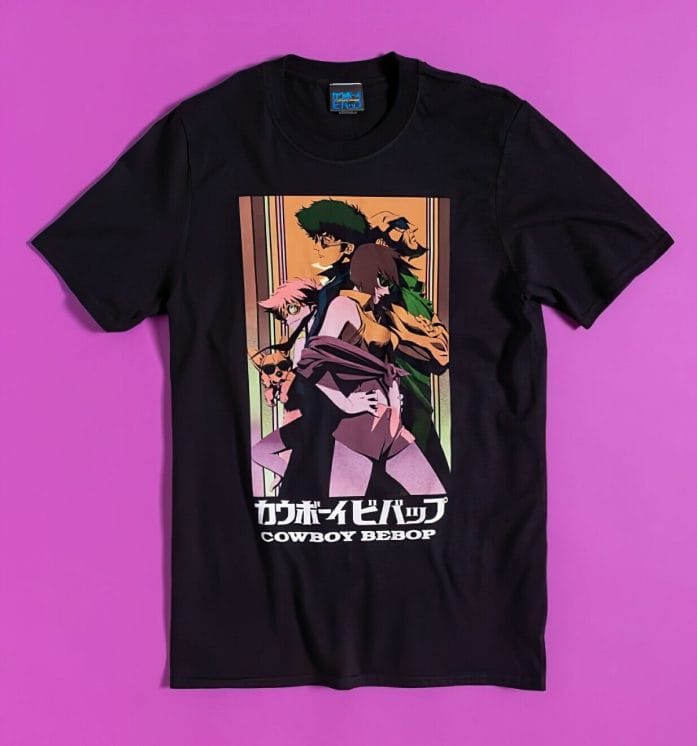 [Mine!]
Truffle Shuffle says, or at least the marketing blurb that comes with the tee says, that fans would traverse the galaxy for the terrific black t-shirt. There's no need, though, as the site also promises to send it to you faster (in exchange for coin) than the Swordfish II.
I just have to call out Ein peering around the edge there, wearing shades. Lookit!
Cowboy Bebop Police Line Up
Well, some people aren't taking the police lineup very seriously. Unless Faye is, it's hard to tell.
As with the gradient design, this tee is %100 cotton, pre-shrunk with a soft feel and has a one-size unisex cut.
Quick Links
Take part in the Geek Native community by leaving a comment below.