How does anime do with representation and diversity? Not good, sadly, and I say that as a fan.
However, Crunchyroll's editor-in-chief, Cayla Coats, tracked all the shows simulcast by the platform in 2021. That's the shows the streaming site shared pretty much as the anime broadcast went out in Japan.
3% of the protagonists were non-binary and 30% female. However, 2% of the heroes were slimes and 2% robots in terms of species. So perhaps 3% non-binary isn't even high enough. In That Time I Got Reincarnated as a Slime the formerly male protagonist deliberately picks an androgynous and female influenced body to shapeshift into as their default human appearance.
Crunchyroll's tracking can be seen in this infographic.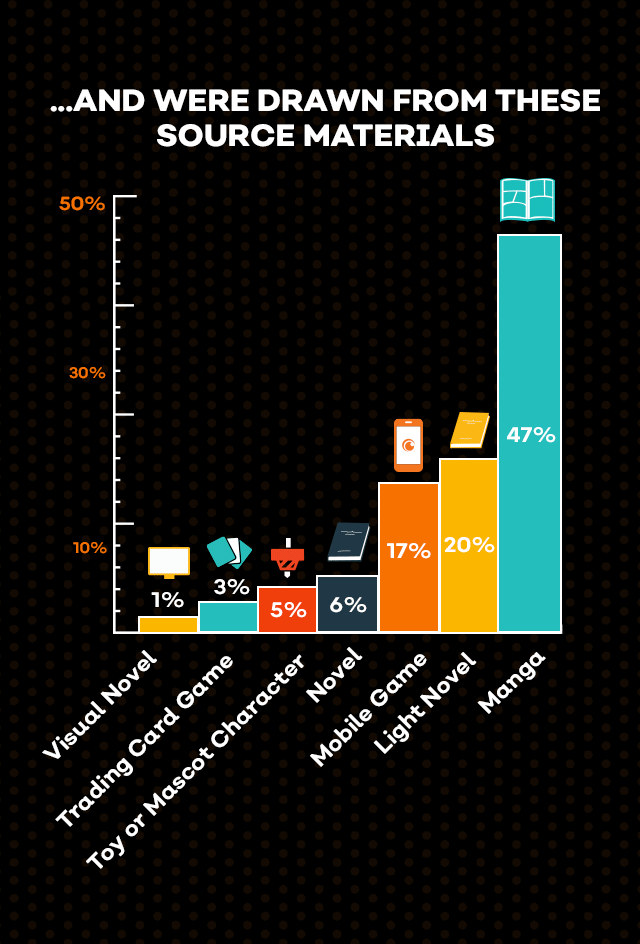 We see that not every new show was an Isekai, despite how it may feel. Isekai animes are where the protagonist is taken, one way or another, from a world like ours to a new one.
In 2021, 19% of anime were set in a fantasy world, which was the most popular genre. Surprisingly, thriller was the least popular in last place and musical and supernatural (5% of the time for each). Action shows came in second place with 17% of the titles.
When shows were set on Earth, 2 made it to the USA, 1 in China, and 1 in the United Kingdom. Don't worry; that puts us in good company as only 1 was set in Heaven. 53 shows were set in Japan.
Quick Links
Use the comment box below to leave a helpful comment and earn some geek cred!