Paranoia is a spoof of 80s concerns, a comedy RPG in which a so-called benevolent computer has taken over one of the few remaining human complexes and insists everyone is happy – under pain of death.
No one is happy; everyone is a traitor, a mutant and a criminal in some way. Your role as a character is to root out people like yourself, including other characters, and expose them to the Computer. Before they do it to you. But, you cannot admit this as no happy citizen believes all other citizens are traitors.
One bundle returns from 2004, the other features the 2016 card-based version of the game, both from Mongoose.
Paranoia 2004
There's a dedicated bundle page that will run until the 27th of December at the Bundle of Holding.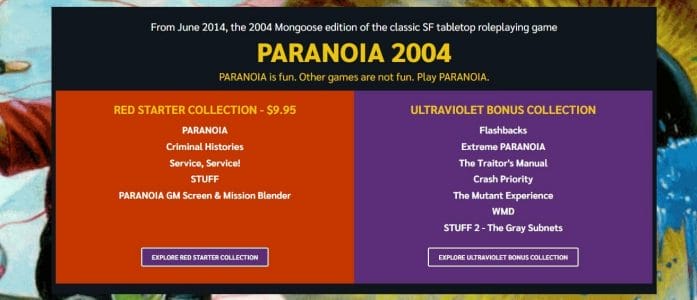 Starter Collection – $9.95
A core set of rules and downloads worth $30 are available at the opening $9.95 tier.
PARANOIA
Criminal Histories
Service, Service!
STUFF
PARANOIA GM Screen & Mission Blender
Ultraviolet Bonus Collection
The threshold price, which is a weighted average, started at £19.95. Those who meet its current level will get access to a further $40 worth of DRM-free downloads.
Flashbacks
Extreme PARANOIA
The Traitor's Manual
Crash Priority
The Mutant Experience
WMD
STUFF 2 – The Gray Subnets
Paranoia Red Clearance
This bundle was last seen in 2019 and includes a new set of core rules and an interactive GM screen. It too has a dedicated page at the Bundle of Holding.
Starter Collection – $19.95
The opening tier includes $51 worth of DRM-free books, cards and plays aids.
Paranoia Red Clearance
Paranoia RCE Forms Pack
Paranoia Interactive GM Screen
Bonus Collection
The bonus collection's threshold price started at $32.95, and those who meet it will access an additional $67 worth of Paranoia RPG supplements, including the Yellow Clearance Black Box Blues, which retails for $30.
Guide to Alpha Complex
Implausible Deniability
Robots of Unusual Size
YELLOW Clearance Black Box Blues (Remastered)
Dear friend, if you missed out on these bundles, would you be happy?
Quick Links
Meet the Geek Native community by starting a comment conversation in the section below.