🐙Sponsored Post paid for by Geek Native. We may earn a commission on sales.
How's your enamel pin collection going? Zero or hero? Mine is somewhere in between but in a bowl by the front door. The catch is I'm rarely wearing a jacket to show off the badge of the day.
Etsy seller ItsGeoffrey might encourage me to try harder. I'm certainly tempted by the "Sirs" collection.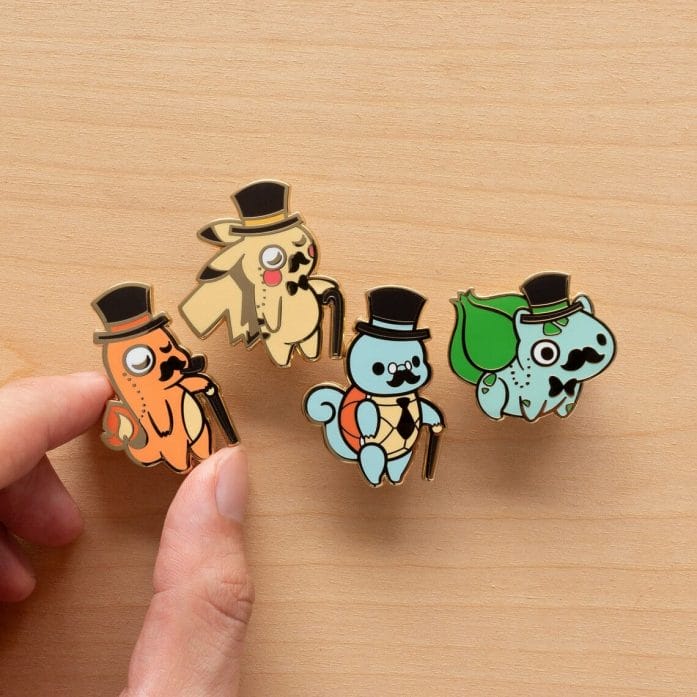 Yes, in this case, the "Sirs" are Pokemon but harking back to a time before populism and of etiquette, a time of top hats, tashes and walking cane.
Of the Pokemon world, these are the gentlemen. If you will, these are the Gentlemon.
Shipping from the States, you can buy the whole collection or one at a time. They're about 1.5″ in size, which is fairly big for a pin badge, except the "Bulbasir" which is 1.25″.
It's perhaps due to size that each pin gets two coloured PVC rubber clasps.
The original set (Bulbasir, Charmingder, Squiretle and Piquitechu) was designed in 2011 and, rightly enough, went viral on Reddit. This spawned the "Teaveelution" line.
This re-release uses hard enamel for that extra touch, which means no recessions in the metal and a high-gloss metallic finish.
Love the style? You can follow Geoffrey Siu on Instagram.
Quick Links
Nothing to add to the comments? Pop over to the chat portal and see what's going on elsewhere in the site.