Zäta Doe has the humble goal of €50 to Kickstart The BURST System for roleplaying games. However, to get a PDF copy of the lite and almost ashcan, RPG backers merely had to pay €1 (about £1).
Despite the low price, the Kickstarter is successful, so The BURST Guide will happen, and it also means a free to re-use, modify and then sell for profit RPG system is a crowdfunding success. You can join in or check out the latest total on Kickstarter.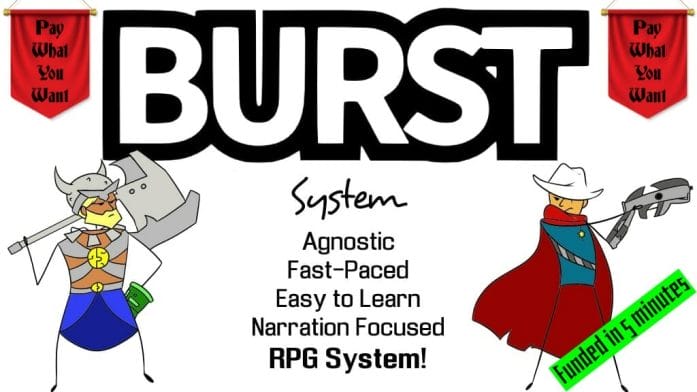 There's no pitch video. In fact, the banner you see above is the most impressive art found in BURST (and it may not appear at all).
BURST is designed to be quick and agnostic. Agnostic in the sense that you can use it for any genre, quick as in easy to pick up and run games.
The BURST Guide, a separate thing, is there to help GMs get sessions down to only 3 hours and is not restricted to the BURST system either. Character creation is estimated at 10 minutes.
BURST is licensed under CC-BY-SA, which means you can make your own versions and sell them for money. You can write your own adventures, attach the BURST System to them as mechanics, and sell them for money. It's all fair, legal and encouraged.
As noted, €1 is enough to get you a PDF copy. With add-ons, you can buy community copies so other people can benefit.
At a pledge of €15, the offer changes, though. You will get a paperback of the rules and generate 5 community copies (presumably digital).
A limited €25 tier, with only 9 spaces left, offers the BURST Guide as well as the paperback edition of the rules and the 5 community copies.
Take part in Geek Native's community by sharing a comment below.