Starships riding fire across the sky. Heroes and villains exchanging laser fire.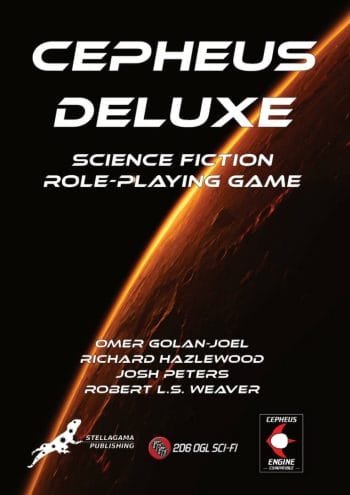 Desperate spacers struggling against an alien monstrosity. Vast planetary vistas, flying cities, moonscapes, mad robots, and first encounters. In short: high-action science-fiction adventure that stimulates your sense of wonder. Cepheus Deluxe puts you in the shoes of an adventurer visiting distant stars and encountering the unknown. Whether you are a seasoned player looking for a rules-light game, or a new gamer wanting to experience what science-fiction role-playing games are all about, Cepheus Deluxe opens your way forward.
Cepheus is a platinum best-seller at DriveThruRPG. There's a few versions of the RPG available, but The Sword of Cepheus has that Platinum badge. Sword was published in 2020, so it has sold quickly. It uses a streamlined and skill-based 2d6 system.
Today, Cepheus Deluxe was released by Stellagama.
The new edition is compatible with the Cepheus Engine SRD and other OGL 2d6 titles. The goal, the same as before, is to offer up rules for classic sci-fi games from chargen to space battles.
Cepheus draws on OSR inspiration for its roots, powers Barbaric fantasy RPG and is popular with the old school community.
Quick Links
Level up your geek stat by contributing to the comments.