The Cthulhu Mythos RPG of dark conspiracy and urban horror Delta Green has an impressive 25th anniversary Kickstarter on the go.
The crowdfunding project is attracting backers like an unsolved political murder attracts journalists and, it appears, the savvy attention of the Bundle of Holding.
There are two bundles now live on the site, both back from the dead. The first is from June 2018 and is the core Delta Green deal. The second, from 2019, is the companion DG Operations guide.
Delta Green RPG
This is the bundle to start with if you're just bringing a digital collection of unpleasant mysteries to life. It's live for the next month.
Agent Collection – $12.95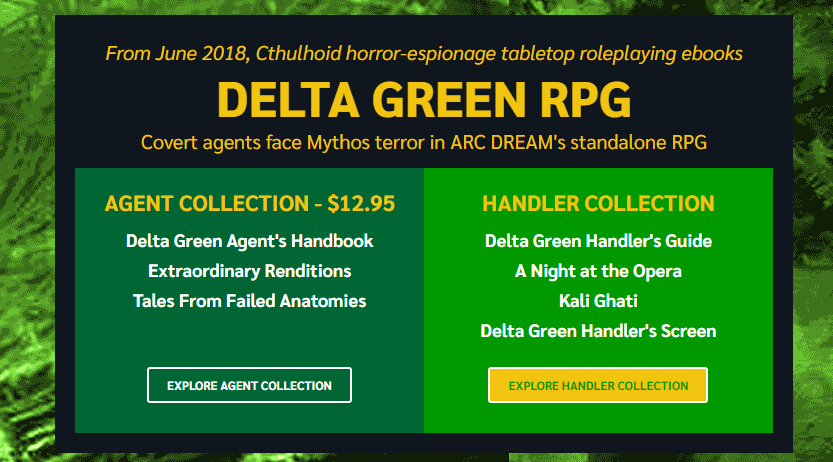 The retail value of these downloads is $40.
Delta Green Agent's Handbook ($20)

Briefing Documents (PWYW)
Need to Know (PWYW)
Alphonse's Axioms for Agents (free)

Extraordinary Renditions ($10)
Tales from Failed Anatomies ($10)
Handler Collection
There's $65 worth of downloads here, and you have to meet the moving threshold price to get them. That goes up and down as people make that target or don't bother.
DG Handler's Guide ($30)
A Night at the Opera ($20)
Kali Ghati ($5)
DG Handler's Screen ($10)
DG Operations
This bundle adds in accessories as well as scenarios for the shady world created by Arc Dream. Like the partner deal, it's live for about a month.
Starter Collection – $7.95
The retail value of these downloads is $40.
Three DG operations:

Last Equation ($5),
Lover in the Ice ($5),
Sweetness ($3)

Agent Dossiers ($3)
Unspeakable Oath #22-24 ($18)
DG stories and drama:

Down in the Delta ($2), The Way It Went Down ($3),
In the Court of the Yellow King ($1)
Bonus Collection
The threshold price for this bundle started at $17.95, and that will change. If you can make the current value, you'll get a further $61 worth of downloads.
Control Group ($20)
The Complex ($10)
Future/Perfect Parts 1-4 ($5 apiece, total $20)
A Victim of the Art ($5)
Unspeakable Oath #25 ($6)
Quick Links
Get involved with the conversation. Leave some thoughts below.