Paleo Gaming has a dystopian sci-fi RPG of space conflict and unique systems up on Kickstarter.
The game is Omega Horizon, and the pitch is forthright with changes to traditional mechanics. It seems to be working as the campaign goal of $1,000 was easily met, and nearly $7,000 was pledged within the opening day. You can join in or check the latest total on the project page.
So, what does Omega Horizon do differently? The Kickstarter campaign calls out four significant approaches;
A sliding scale from narrative to crunchy for rules.
Nested skill tree.
Cooperative skills use to reward working together
An action economy for combat, rather than rounds
The setting has humanity spread throughout space and the dominant force in the galaxy, but not the only one.
The game gets into the dangers of artificial intelligence, humankind versus nature and the cost of survival among the stars.
However, despite the at-times grim nature of the source material, there are elements of hope; elements of resistance, and players who endeavor to carry a torch in the darkness will find welcome company among the stars- not in the unyielding might of the great empires, or the insatiable greed of the mega-corporations, but among individuals; idealists who also dream of a better tomorrow and are willing to fight for it.

There are four primary "factions" available to players in Omega Horizon: The Sentenium Empire, the Yamato Empire, the Vanadium Union and the Free Colonies. There are also numerous minor factions which include mega-corporations, drug cartels, mercenary groups, and more. Some of these minor factions operate within the umbrella of one of the three primary factions, while others are completely independent.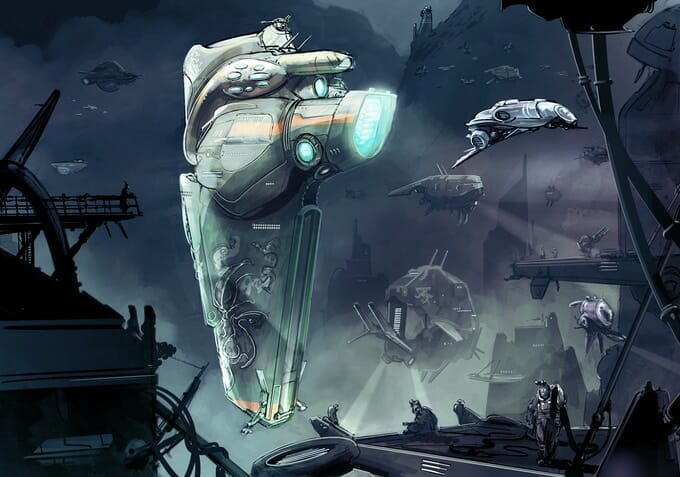 It's a pledge of $25 to back the game and get the core rules and soundtrack as digital downloads.
If you want only the hardcover and the soundtrack, that's $50, with $60 enough to get the PDF added back in.
It's a spaceship sized jump to the next tier. $200 is halfway through being sold out and adds in the custom dice and a character illustration.
There are other tiers, those dice might still be available as add-ons, and the estimated delivery is September 2022.
Stretch goals have already added maps, poster art and may add more with actual play streams and an artbook being possible too.
What do you think? Share your thoughts below in the comment section below.