Disney is dipping into the Fox catalogue it bought back in 2019, and, starting next year, we'll get a new novel series from Disney Hyperion with a Buffy the Vampire Slayer spinoff.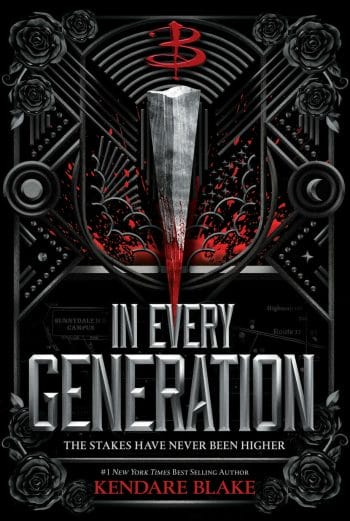 The first book is In Every Generation, and it'll be written by Kendare Blake (of Three Dark Crown). Our hero this time is a Slayer and a Witch; she's Willow Rosenberg's daughter.
The official synopsis says;
Frankie Rosenberg is passionate about the environment, a sophomore at New Sunnydale High School, and the daughter of the most powerful witch in Sunnydale history. Her mom, Willow, is slowly teaching her magic on the condition that she use it to better the world. But Frankie's happily quiet life is upended when new girl Hailey shows up with news that the annual Slayer convention has been the target of an attack, and all the Slayers—including Buffy, Faith, and Hailey's older sister Vi—might be dead. That means it's time for this generation's Slayer to be born. But being the first ever Slayer-Witch means learning how to wield a stake while trying to control her budding powers. With the help of Hailey, a werewolf named Jake, and a hot but nerdy sage demon, Frankie must become the Slayer, prevent the Hellmouth from opening again, and find out what happened to her Aunt Buffy, before she's next. Get ready for a whole new story within the world of Buffy!
Editorial director at Disney Hyperion, Kieran Viola, told Polygon;
The team at Disney Hyperion is excited to explore the 20th Century catalog and look for new ways to reimagine this incredible wealth of content that now falls under the Disney umbrella. There are so many fans of Buffy the Vampire Slayer on our team, this seemed like the perfect property to launch with, and an incredible way to help the company celebrate the show's 25th anniversary in 2022."
Kendare Blake is, as you'd expect, a fan.
I have been a Buffy fan since the womb, or at least that's what it feels like. Being a fan of Buffy was the whole reason for taking on In Every Generation. I had no choice. You don't say no to Buffy."
However, some might say no to Buffy these days out of concerns about Joss Whedon's legacy. There's no suggestion that the director is involved with the project.
The book is due out in January 2022.
Join in the discussion below, start us off or pop over to the chat portal.