There's only a few days left on the clock to back Outland's Rogues Kickstarter for Tombpunk.
Why so short?
Tombpunk is a light-weight, hi-octane RPG system from Alan Bahr, Brigands, Scoundrels and Knaves are books by Alana Joli Abbott and Melanie R. Meadors. Together they become the Rogues supplement for the RPG.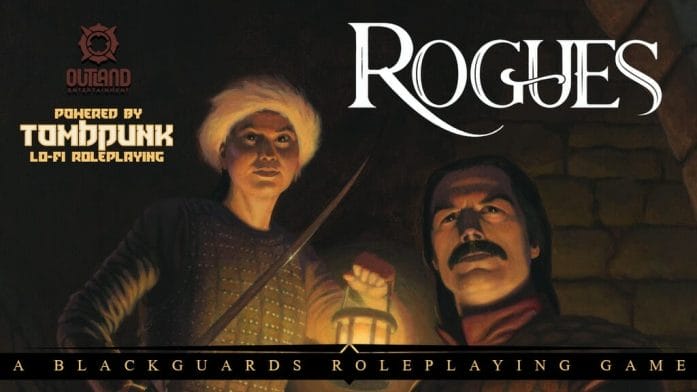 You will need a copy of Tombpunk to play.
The short duration as not prevented the campaign from funding; the target was only $300. Outland was going to do this book anyway, I suspect, and I like that commitment.
The expansion adds three classes and brings the Blackguards setting to life.
Rogues: A Blackguards RPG powered by Tombpunk is a 140 page, 5.5×8.5 black and white book that contains a new setting, new rules, and new adversaries for your Tombpunk games!
That's a form factor that I'm currently favouring. RPGs don't need to be any larger than they need to be, and if I had Tombpunk, I would appreciate not needing to buy the content for a second time.
It's a pledge of just $5 to secure Rogues: A Blackguards RPG rule set in PDF.
The print-on-demand code to unlock an at-cost softcover is added if you step up to $8.
If you don't have Tombpunk, but now you fancy it, then you can the core rules and the Rogues supplement for $10 as a PDF.
There's plenty of tiers available for this campaign. $50 unlocks the Rogues and the Blackguards books with the RPG using print-on-demand, and the novels trade paperback.
Limited tiers offer up Blackguards original art.
The estimated delivery date for the campaign is in August this year, which isn't too long to wait.
Join in the discussion below, start us off or pop over to the chat portal.