🐙Sponsored Post paid for by Geek Native. We may earn a commission on sales.
Award-winners, best-sellers and illustrated novels from a wide range of authors stretching across horror, fantasy and sci-fi. Humble Bundle's Supermassive deal will appeal to geeks.
In total, there's $441 worth of books available across four level. The top tier costs about twenty squid but the first starts for less than one.
Pay £0.72 tier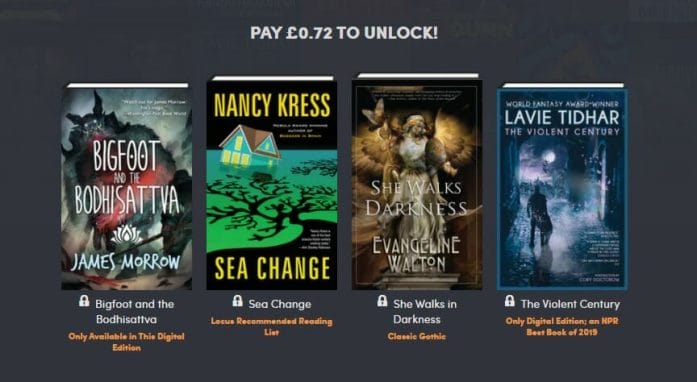 Bigfoot and the Bodhisattva
Sea Change
She Walks in Darkness
The Violent Century
Pay £7.21 tier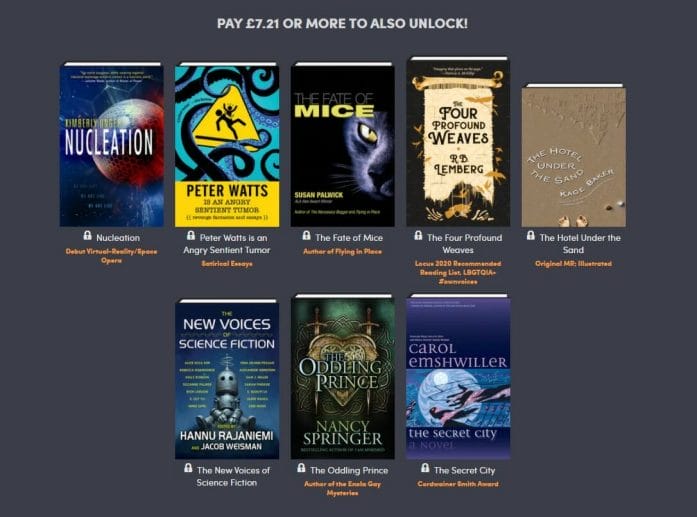 Nucleation
Peter Watts is an Angry Sentient Tumor
The Fate of Mice
The Four Profound Weaves
The Hotel Under the Sand
The New Voices of Science Fiction
The Oddling Prince
The Secret City
Pay £12.97 tier
As you can see, I can't fit all the books on offer in a single screengrab, but the full list is below.
Adventures of a Dwergish Girl
Booklife
Dreams of Distant Shores
Driftwood
Kitty's Mix-Tape
The Bible Repairman
The Emerald Circus
The Freeze-Frame Revolution
The Immortal Conquistador
The Midnight Circus
The Stress of Her Regard
Pay £20.18 tier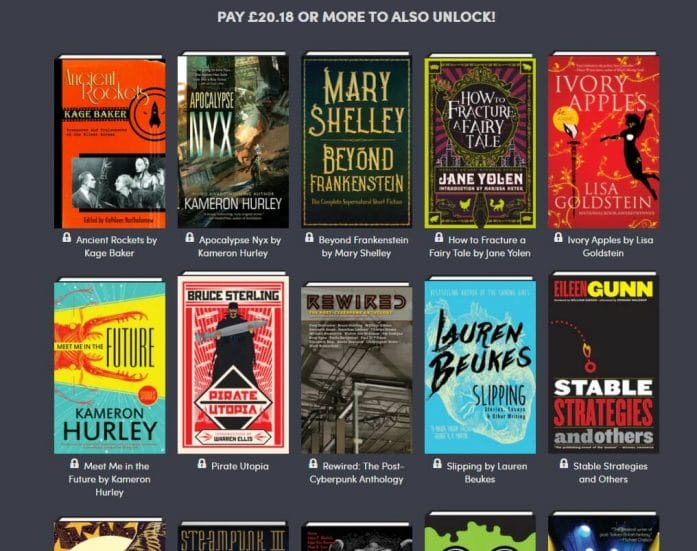 Oh boy. The tier of bargain books above was busy, but Humble Bundle have really pushed the boat out for the top level to lure us in. Look at this overflowing collection.
Ancient Rockets by Kage Baker
Apocalypse Nyx by Kameron Hurley
Beyond Frankenstein by Mary Shelley
How to Fracture a Fairy Tale by Jane Yolen
Ivory Apples by Lisa Goldstein
Meet Me in the Future by Kameron Hurley
Pirate Utopia
Rewired: The Post-Cyberpunk Anthology
Slipping by Lauren Beukes
Stable Strategies and Others
Starlings by Jo Walton
Steampunk III: Steampunk Revolution
The Apes of Wrath edited by Rick Klaw
The Asylum of Dr. Caligari by James Morrow
The Best of Michael Moorcock
The Forgotten Beasts of Eld by Patricia A. McKillip
The Last Tsar's Dragons by Adam Stemple and Jane Yolen
The Monstrous edited by Ellen Datlow
The People's Republic of Everything by Nick Mamatas
The Sword & Sorcery Anthology edited by Jacob Weisman and David Hartwell
The Very Best of Caitlín R. Kiernan
The Wall of America by Thomas M. Disch
Unholy Land by Lavie Tidhar
We Are All Completely Fine
Quick Links
What do you think? Let us know in the comments below!