There's no debate that GMs can spend a considerable amount of time preparing adventures and encounters for tabletop RPG sessions. Anecdotally, I've seen no shortage of people coming to Facebook RPG discussion groups to determine whether there was any automated half-way house between pre-written adventures and random encounters to try and lighten this load.
Now, the young lyniat.games based at the TechBase in Regensburg want to make Paths of Savage Gods and create one. The campaign is open on Kickstarter for another four weeks and closing in the €39,000 goal. You can see progress and join in via the project page.
Paths of Savage Gods looks a bit like an isometric computer roleplaying game, but it is actually a Dungeon Master Tool.
The software procedurally generates worlds. That's to say, it's not randomly lobbing maps together but following rulesets with a random chance in them to create different but cohesive cartography.
Once the world map is created, Paths of Savage Gods goes closer to building complete locations like villages and then populating them with NPCs. The tool then makes potential quests for your player characters, again with a procedural approach and gives them to NPCs to hand out or initiate.
Managing your adventure also happens in the software, as the chances of monster encounters.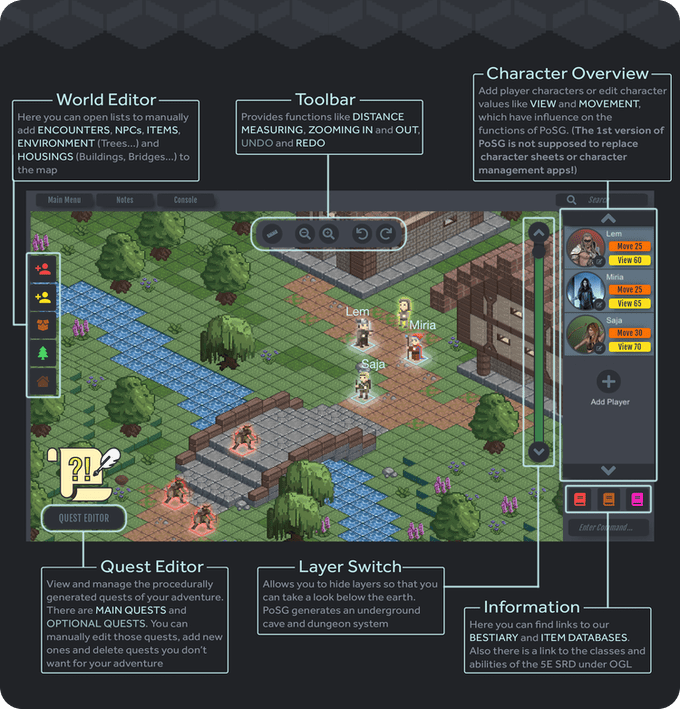 The software will use a subscription model, and during the Kickstarter, a pledge of €22 (about £20) will get you a lifetime premium player access account and a three month DM version subscription.
A lifetime DM version access, complete with a lifetime player version account, wallpaper and an art booklet, requires a pledge of €55.
Stepping up to €88 means you can get an additional 4 x lifetime player keys for friends while securing one for yourself and your DM access.
As these tiers also include access to various beta testing stages, the estimated delivery date is early; just July 2021
Can you help expand this article? Scribble down some thoughts in the discussion area below.