Kickstarter's Zine Quest is quite something; Geek Native's tracked over 150 RPG and related launches in the last few days. Steffie de Vaan and Elizabeth Chaipraditkul's City of Flesh is one of the standouts. It funded in hours.
Blending grimdark and femmecore, City of Flesh is a tarot-based RPG set in the rotting womb of a dying colossus. You can join in at the pledge page.
Steffie de Vaan developed Legendlore and V5's Fall of London and has worked on titles like Exalted, Changeling the Lost and Harlem Unbound. Liz Chaipraditkul has won awards for her latest game, Afterlife: Wandering Souls, and has worked for Chaosium, Modiphius and Onyx Path.
City of Flesh is a tarot-based roleplay game where you play one of the Midwives, a person imbued with primordial energy, tasked with staving off the end of the world as you know it. Together with your fellow players and GM, you create the city of Nagara and its unique locations using a tarot deck. Each session your characters inch ever closer to a Doom they're working tirelessly to prevent, but must inevitably face as the chronicle ends.
The RPG invokes a dungeon crawl's dark horror feeling while focusing on mechanics which drive in-game drama and push personal stories. Characters will get embroiled wars raging between guilds in the city and try to secure a bit of personal safety before all your efforts crumble around you.
The printed zine will be A5 sized and 50+ pages. Stretch goals will unlock supporting downloads (which might even get printed) such as a Monster generator or Encounter generator.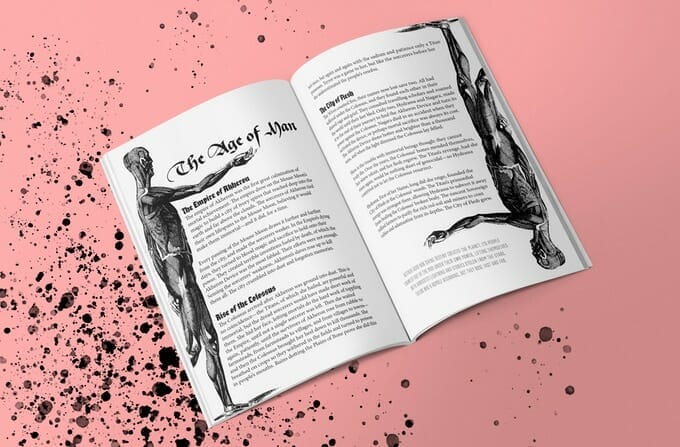 The PDF of the City of Flesh is yours, with digital stretch goals too, for €9 (about £8). You get the physical zine with that as well if you step up to €15.
The expected delivery is May 2021.
Share your views on this article in the comment section below.