The usual rule for this collection of anime mini-reviews is that any show must have three episodes watched before a review rating is given.
Why? Anime first episodes are sometimes nothing like the rest of the series.
However, that rule is broken when we're tracking brand new titles, and Irregular Reconnaissance has caught them the week they've gone up. In this situation, the hope is that episode one's first impression is more helpful than waiting three weeks for a write-up.
Four out of the five anime shows in this week's Irregular Reconnaissance are part of either Crunchyroll or Funimation's newest season. They've just been released.
The Promised Neverland
Season 2, Episode 1
The Promised Neverland is, quite rightly, an award-winning anime. I'm thrilled that I got to it in time. I soaked up the first season in two binges, and I'm able to watch season 2 as it comes out.
I enjoyed the first season on Crunchyroll so much that I would have, had it not been a Christmas gift to my season, bought a Funimation subscription to get to season 2.
Cautious of spoilers, let's just say that the orphanage kids find themselves out in the woods. Emma might encourage the youngsters to think of it as a tag game, but there are monsters in those dark corners, and they have a taste for flesh.
Status: Good.
Where: Funimation
So I'm a Spider, So What
Episode 1
A classroom explodes, the children die and reincarnate in a fantasy world, and one unlucky girl ends up… as a spider.
As is traditional with Isekai anime; our hero remembers her previous life. She also is a gamer who lots of knowledge and experience of the Isekai genre and sets out to min-max her way to safety. I mean, give her a break; she's one of the thousands of cannibal spiders hatched into a dark cave.
There have already been twists, and there's been far more blood and guts than I was expecting!
I think So I'm a Spider, So What is off to a promising start. Surprisingly, it's our spider-hero's plucky "can do" attitude that appeals to me the most. She's a star.
Status: Good
Where: Crunchyroll
Dr. Ramune -Mysterious Disease Specialist-
Episode 1
The concept here is that there's an occult-like disease out there in the wild that infections people through their emotions, or perhaps their mind, and doctors don't even recognise it.
Dr. Ramune is an unorthodox practitioner who not only recognises this mysterious disease but who can treat it.
Much of this anime could have been about how life is full of hard knocks, people are mean, and the stress of it makes us all ill. There could have been an overpowering and sombre mood to it all.
In the first episode, though, the patient is a young actress who cries different condiments rather than tears. I'm not sure if the writers were trying to be creative and profound. It didn't work; it was silly.
I'll stick with Dr. Ramune for now as, frankly, it could go in any direction.
Status: Average
Where: Crunchyroll
Episode 1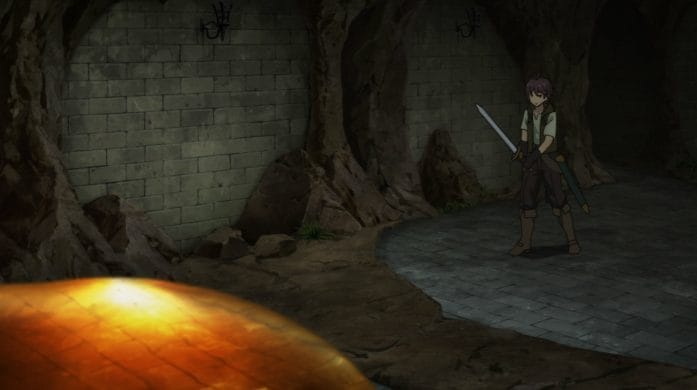 I'm not even sure what I'm expecting from this anime. The idea of a wannabe hero getting access to a secret training ground and using that access to do better than rich idiots appeals to me.
However, as the trailers made clear – The Hidden Dungeon Only I Can Enter is full of fan service.
Our hero's powers come from a busty babe who's hanging from "death chains" that she cannot be freed from in the dungeon. They're a gift; nothing he's earned.
Oh, and "life points" used as both health points and mana are recharged through hedonism. Hmm.
Status: Average.
Where: Crunchyroll
The Idhun Chronicles
Season 2, Episodes 1 to 5
I was underwhelmed by the first season of The Idhun Chronicles giving it a "below average". Well, I'm raising that to "average" for season 2. Just. Barely.
Why did I even watch the second season? It's only five episodes long, and I binged watched it all while forcing myself to spend that time on the exercise bike.
Why is it better? There's no faffing around, and we get a bit more secrets, plot advancement and the action is nearly as good.
I forgot that the plot-twist in season two was supposed to be a plot twist. I'm sure everyone who watched season one will have figured out what was going on.
I suspect we'll get a season 3.
Status: Average
Where: Netflix
Are there any shows in particular in the streaming platform's early 2021 slate that you're especially looking forward too?