Drift of Dreams is the first Swordsfall graphic novel. Swordsfall itself is an Afropunk RPG from Brandon Dixon, the author of Drift of Dreams, that's been picked up by Andrews McMeel and their charge into the tabletop hobby.
What's Afropunk? With Swordsfall, Afropunk is a fantasy world based on African mythology rather than European.
In Swordsfall and the Tikor setting, gods and spirits are real, and humankind was created by them. Humanity developed into nations and cultures, sometimes squabbled as siblings do but otherwise managed to co-exist.
Then a god was murdered, and a human blamed. Rumours abounded of a horrible new weapon, Grim Arms, that could kill gods.
Perhaps all is not as it seems? A dark new force emerges and doubts around the assassination of the God of Wisdom emerge. Drift of Dreams is set 10 years after these events and has a heavy focus on the Tapestry.
In Tikor, when humans sleep, their minds enter a dimension known as the Tapestry. The Tapestry is a realm where only humans can enter.
Drift of Dreams shakes the Tapestry mythos up. In the 187-paged graphic novel, the dark force of Xavian, the lurking god, the Wither King has found a way to corrupt the Tapestry.
Only the Dreamweavers can defend this dimension. Dreamweavers are human, protectors of the Tapestry but as flawed as the rest of us. Some of the early scene with gathered Dreamweavers made me think of the United Nations and any other peacekeeping force.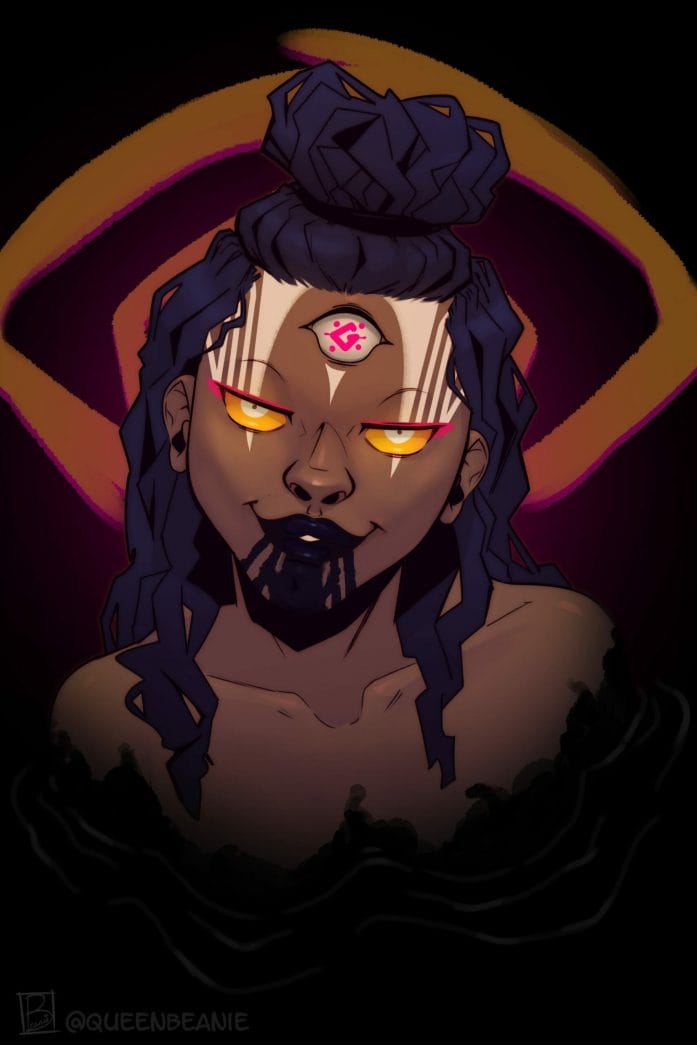 Do you jump in? Do you wait and see if the incursion is a full-on invasion? How much information do you need before you can act?
Fortunately, Drift of Dreams isn't about the nightmare that is international bureaucracy. A Dreamweaver known as Seeker is called in. Seeker has been further into the weave of the Tapestry than anyone else, and this experience sets her apart.
Reading Drift of Dreams feels a bit like exploring a dream. Sure, yes, the writing plays a part, but this is a graphic novel, and the visuals here work special surreal magic on you.
Drift of Dreams has been illustrated by Bex Glendining, Bre Indigo, Joshua "Kodo" Small, Kameron White, Mariá "Raposa Branca" Scárdua, Morgan Madeline, Omotola Oyefodunrin, Sonya Henar, Tanni "Queen Beanie" Brown and Wayne C. Spencer. Tumo Mere and Chris Cold did the cover.
In other words, as well as being a host of talent, and people of colour, the visual style between chapters in Drift of Dreaming changes like a dream. Sometimes these changes are subtle, sometimes dramatic.
Do you know what? I rather liked it!
Reaching the end of a chapter sometimes results in a single black page. This is your sleep. Your chance to recover. Your opportunity to appreciate what might happen next. Then there's a hero image and a chapter title page which reveals the artist for the section.
I'm not sure if I'd like the cosmopolitan collection of art styles quite so much if the graphic novel, a single-story, hadn't been about dreams. It just happened to work well here.
There isn't a weak link in the chain. There isn't an artist that let the side down. However, there is plenty of discombobulation. Why that art style for that slice of the story? Is that the same character? Are we in the same place?
These are dream questions, aren't they? Moments when what has just happened isn't entirely clear, and your mind needs to reassure itself and settle on some continuity.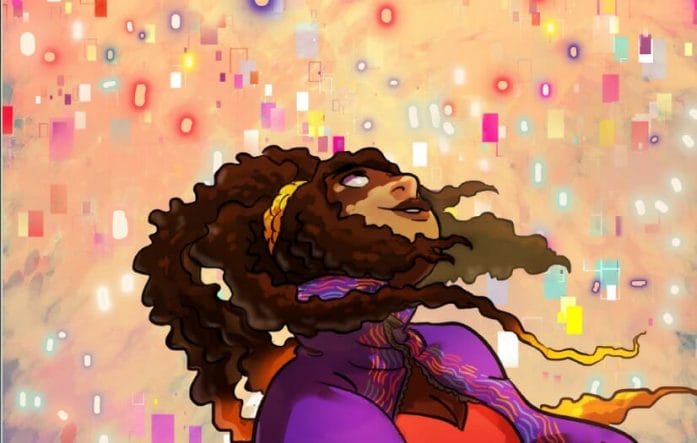 Dixon's story might be about courage, hope and being brave enough to have hope, but Drift of Dreams for me is about the peace that comes from continuity. I was struck at how much the human mind, my mind at least, wants to find the connections and carry on from that point of reference.
The subtitle of this review is "To Dream, Perchance to Sleep" because the struggles in Drift of Dreaming reveal that the dream world is not always a restful one. And because dreaming of a brighter tomorrow only sometimes happens when we're asleep.
On the downside, I don't think Drift of Dreams as educated me much further on Swordsfall or Tikor. I've an idea of how scary the baddies could be and have a 180+pages of speciality in the Tapestry, but this wasn't a graphic novel that does much in setting out the stall for the setting.
Overall? Entertaining and fun. You have to work here and there, especially at the start as we jump around between threads, but Drift of Dreams very quickly settles in and takes you with it.
My copy of Drift of Dreams was provided for free to review. Geek Native has donated ad space to Swordsfall in the past, but there is no commercial relationship between the project and the blog.
Thanks for reading! Why not leave a comment below? Alternatively, if you're feeling restless you can teleport to a random article with this link!