Eberron's creator Keith Baker has just released another book to the DMs Guild.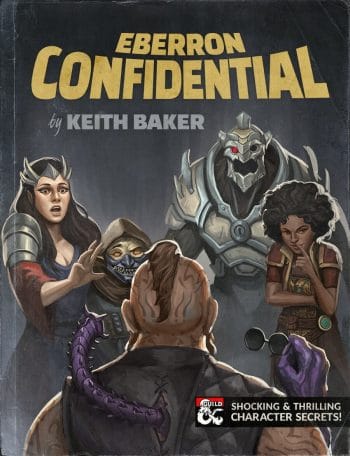 You can buy Eberron Confidential for $4.95, which makes it the lowest cost download in the whole KB Presents collection.
Eberron is an official D&D campaign setting, supported by Wizards of the Coast.
However, Eberron Confidential for $4.95 is a third-party community content product available via the DMs Guild with the twist that Baker invented the world.
The book contains 54 character secrets in a ready-to-print format so they can be easily used as player handouts.
There are tips for DMs on how to integrate these secrets into Eberron campaigns.
Eberron Confidential includes options for introduction secrets to players even if you're already in a campaign.
Ideas for using rumours to add to party dynamics.
Tables for generating NPC secrets when you need them.
The DMs Guild page shows four sample pages so we can get a good look at the art and layout.
We can see occupational hazards suggested by Baker include
Arcanix Dropout
Circus Runaway
Earworm
Heretic
Inconvenient Mark
Knows Too Much
Outlaw
Sole Survivor
War Crimes
You can pick up Eberron Confidential from KB Presents.
What do you think? Share your input on this article in the section below.