Within an hour of punk band the Dead Milkmen's 5e D&D adventure going live on Kickstarter it had funded. It's smashing targets.
Geek Native covered the news of Lost Tomb of the Bitchin' Chimera last week and it's rare to see such excitement about a D&D module announcing plans to Kickstart. So, Dead Milkmen's success isn't a surprise. The speed and scope of success are, though. The band asked for $1,500 and they've shot through $12,000 already. You can follow progress on the campaign page.
Severed Books, the publisher involved, are Kickstarter pros with 79 projects backed and 24 created. This helps.
The module is set in a weird place known as Tiny Town, and the pitch text promises us hilarious punk and fantasy adventures. The book will be written by Andrew Ervin and illustrated by Justin Sirois.
Tiny Town is being terrorized by a giant seabird, and so the call for help goes out. Who answers? Our brave heroes, but before they can confront the beast, they must navigate the Swampland of Desire and find the Life-Is-Shit Boneyard. That's where they might find the Tomb of the Bitchin' Chimera.
US$7 is all that it takes for any gamer on a low-income or who are part of a marginalized group of the RPG community to get a PDF copy.
The rest of us only need to find $9.
If you want the book, then the PDF comes with it, and you'll have to double your pledge to $18.
However, there are much higher tiers for party look cates filled with Lost Tombs and limited edition box sets.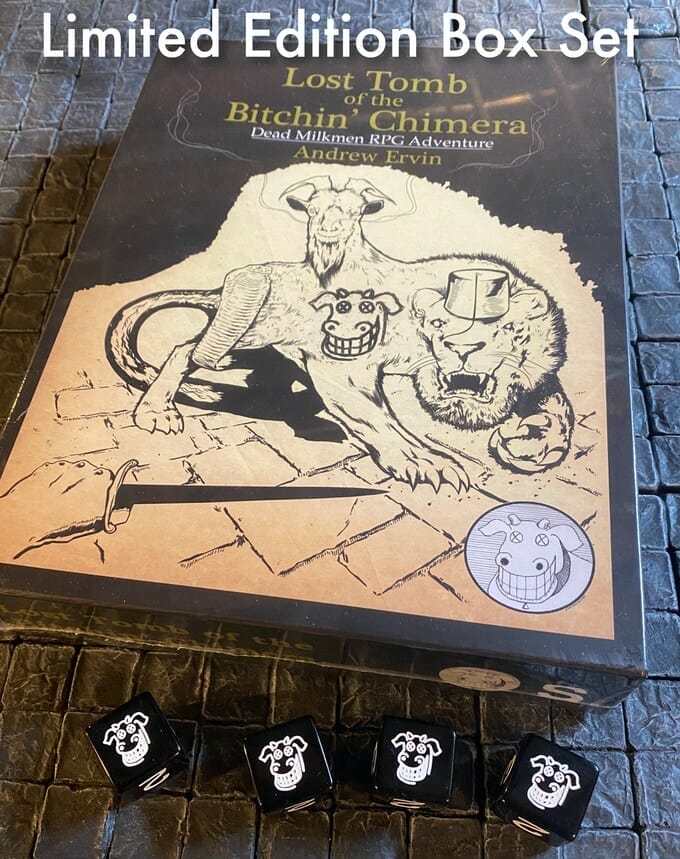 Add-ons include shorts, dice, glow-in-the-dark dice, GM screens, more dice, GM screens and access to the Severed Books PDF library.
Take part in the community by leaving an interesting comment below.