There are only a couple of days to pounce on the 2020 Tabletop Itch.io bundle.
A small but perfectly formed bundle with hit RPG titles like Thousand Year Old Vampire and Sleepaway.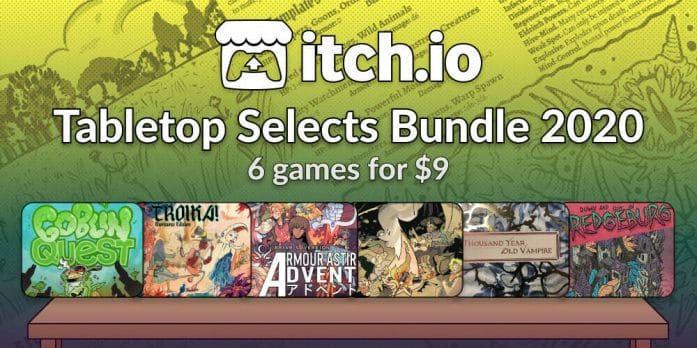 In fact, each title in the deal is worth a look so let's do that.
Goblin Quest – By Grant Howitt. Play five goblins each (in sequence, not parallel) and watch them meet hilarious ends while failing to achieve the most basic tasks.
Troika! Numinous Edition – By the Melsonian Arts Council. A baked-in plane-hoping setting which draws you into the world and allows you space to build upon its sturdy foundations.
Armour Astir: Advent – By Weregazelle. It is a game of rival pilots clashing in steel-clad Astirs, of soldiers holding their own against the odds, and of spies and diplomats twisting the world to their ends.
Sleepaway – By Jay Dragon. You play as a camp counselor at a not-so-ordinary summer camp besieged by a Strange and ominous cryptid.
Thousand Year Old Vampire – By Tim Hutchings. You have done this since time immemorial, or so you believe; you have no memories of living as a man-thing like those you catch and eat. But human traces linger; your fingers trace clever arabesques in the dirt of your grave-place and with the flourishes come whispered songs in a language you've forgotten.
Down and Out in Dredgeburg – By Skull Fungus. You have died and woken up in the city of Dredgeburg, a dark oasis of sorts, wedged in between the many hells of the Underworld.
Teleport over to the chat portal to learn how to unlock comment badges.