Do you have a 3D printer? Tempted by one?
Humble Bundle currently have a collection of designs you can buy at a discount and download the STL files. The full price for the complete set would usually be $340.
You can check out the details at Humble Bundle.
Pay £0.76 tier
Ork berserk
Goblin
Jungle Temple
Dwarven Defence Lines
Half Trees
Yaks
Damaged Tents
The Fountain (Paint Holder) Scatter puck
Pay £11.52 tier
The screengrab of these 3D designs only shows the first two rows, visit Humble Bundle for the full visual.
Minotaur
Heavy Ogr
Cultist Room
Bugs & Critters
Flail Snail
Destroyed Carts
Thatch Hut
Tavern Kitchen
Dwarven Tombs
Church Accessories
Gelatinous Cube
Pay £14.34 tier
There are so many designs in the Bundle that we can only show the first two rows in this tier in the image below.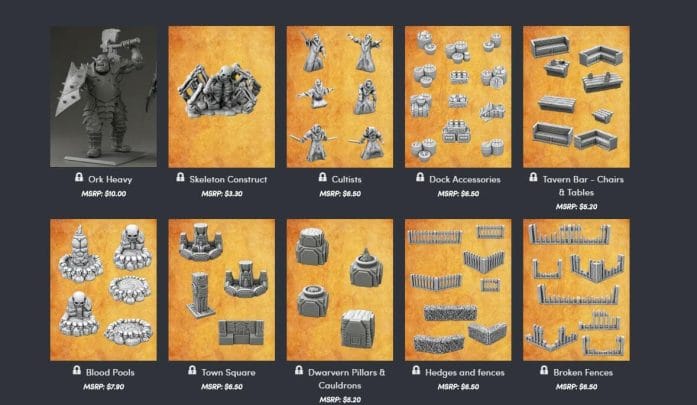 Ork Heavy
Skeleton Construct
Cultists
Dock Accessories
Tavern Bar – Chairs & Tables
Blood Pools
Town Square
Dwarvern Pillars & Cauldrons
Hedges and fences
Broken Fences
Destroyed Trees
Cultist Scribe & Watchers
Pay £15.37 tier
This is the largest tier and, once again, we can't show all the designs in the picture below.
Shanty Fences
Wyvern rider
Sabertooth rider
Ork King
Ork Veteran
Shamen
Demon Beast
Ogr
Necromancers Study
Skeleton Tomb Guardians
Farm Accessories
Dwarven Inn
The Blacksmiths
Tavern Bar
Dwarven Inn Bedroom
Spiders
Destroyed Dwarven Defence lines
Ogr Warrior
MSRP: $10.00
As usual, with Humble Bundle purchases money goes to charities with each purchase.
What do you think? Sound off in the comment section below.