The Pillars appear Earth and threaten all life. Humanity is on the verge of destruction when Odin appears and gifts us the Walkures and their herocraft.
Warlords of Sigrdrifa is set seven years after that fateful event, and the battle against the Pillars continues. In Japan, there are three skilled Walkure who battle against the Pillar there. A new pilot from Europe joins them in the fight.
Author Tappei Nagatsuki, who wrote the impressive Re:ZERO ~Starting Life in Another World~ is in charge of the series script. Previously, it would have been Nagatsuki's novels like Re:ZERO which were turned into anime but this time, he's writing for the screen, and adapting a light novel called Senyoku no Sigrdrifa Rusalka.
Hirotaka Tokuda (Record of Grancrest War) is directing, and it's an A-1 Pictures project.
Claudia Braford with the Gloster Gladiator Mk II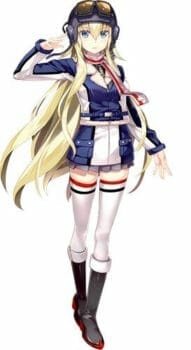 Miyako Muguruma with the Nakajima Ki-44-II Otsu
Azuzu Komagome with the Heinkel He100D-1
Sonoka Torai with the Macchi M.C. 72R
Via Anime News Network.
Let us know your thoughts in the comments below.