Two years ago, Geek Native talked to Nolan T Jones of Roll20 and lead designer James Introcaso about Burn Bryte.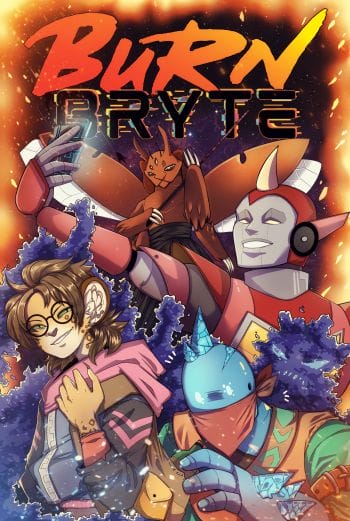 This is a sci-fi RPG designed especially for the Roll20 virtual tabletop. It also means that Roll20, like D&D Beyond's parent company Fandom, has an RPG system of their own.
It's taken three years, from the launch of the project, through to telling the world about it and to today for Burn Bryte to get a launch date. The game goes live on the 7th of July.
If you're a Pro/Plus subscriber at Roll20, you might even have been playtesting the RPG for the last 2 years.
A blog post on Roll20 introduces The Olaxis Galaxy to readers.
In Burn Bryte, the players build heroic characters who live together on a spaceship in the Olaxis Galaxy, a place of tenacious creatures and magic-powered tech. Its ancient celestial bodies are dotted with bygone mysterious ruins and highly advanced modern settlements. Olaxis is the last galaxy in the universe. A bright orange existence-consuming phenomenon, dubbed the Burn, surrounds and slowly closes in on Olaxis, wiping out entire solar systems as it makes its slow, inevitable advance.
With the Burn's unrelenting destruction comes all manner of hardship. Resources grow scarce. Refugees struggle to find welcoming spaceports. Wars are fought over the planets at Olaxis's center, the last to be taken by the Burn, while the ever-diminishing edge of the galaxy is rife with criminals and bizarre, space-faring monsters pushed ever inward by the glowing phenomenon from parts unknown.
Roll20 and Burn Bryte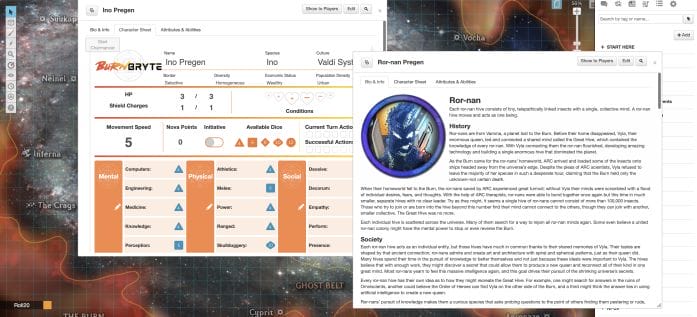 As you'd hope, the integration between the game and Roll20's platform has been carefully planned.
Roll20 says;
Burn Bryte uses the power of Roll20 to let players roll fistfuls of dice with instant resolution, build super customizable characters with unique backstories in a matter of seconds, apply automated conditions to creatures with the click of a button, track shared resources, run white-knuckle spaceship battles with every player participating in a meaningful way, customize a spaceship together, roll on random tables instantly without flipping through pages, and do so much more.
We're also taking digital safety tools to the next level with a beautiful deck of cards that allows players to let each other know when the game needs a slow down or stop with 100% anonymity.
With the launch announcement, James Introcaso said;
The team that worked on Burn Bryte was incredibly dedicated to creating a game that's about hope against all odds, and doing what's right, even as the universe burns around you,"
The gameplay mechanics are all about telling stories with giant highs and terrifying, oh-crap-we-broke-our-spaceship lows."
Burn Bryte will cost $29.99, the Bruning Daylight Starter Adventure with pre-generated characters will add another $9.99, and the title art packs $4.99 each.
It's the internet! No doubt someone has left insightful and witty comments. Check below.