Chaosium, the Call of Cthulhu and HeroQuest publisher, has today announced the QuestWorlds System Reference Document (SRD).
The SRD is a set of guidelines by which other publishers can create and sell content using the QuestWorlds Open Gaming License and, provided those rules are followed, don't need permission from Chaosium.
The QuestWorlds SRD is an evolution of the 2000 Hero Wars game by Robin D Laws. Hero Wars was revised as HeroQuest in 2003, then republished in 2009 and then in 2015 the system was used in Greg Stafford's world of Glorantha.
Chaosium would like to see publishers and fans use the QuestWorlds SRD to tackle whole genres at the time. Leading by example, the Diana Jones Award-winning designer Ron Edwards (Sorcerer RPG) will create a genre pack called Cosmic Zap.
Cosmic Cap will use the QuestWorlds SRD to crate a superhero genre system, and the blog Adept Play is already documenting the process.
Just last month, Chaosium offered up a similar but different SRD for the Basic Roleplaying System. There was some criticism of Chaosium's approach.
Now, the Call of Cthulhu publisher has four different sets of rules and publishing options.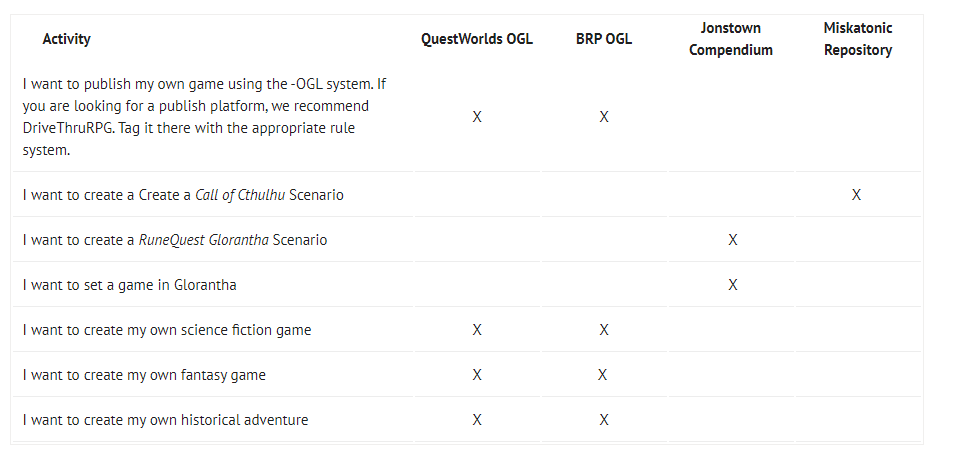 What are your thoughts? Strike up a discussion and leave a comment below.