It's not possible to play the Battle Imps any more (due leave a comment if you think its worth re-creating though). The original game simply randomly awarded you an imp with stats randomly generated between 1 and 10.
Imps battled by rolling a d10 and adding that to a current stat. The imp which won the most stat-to-stat totals won the battle.
Just in case you fancy creating your own game of Battle Imp head-to-head I've suggested TT style values for the imps.
Alin
Backstabbing: 1
Dodgin': 1
Guts: 1
Magic Mojo: 3
Smackdown: 2
Asum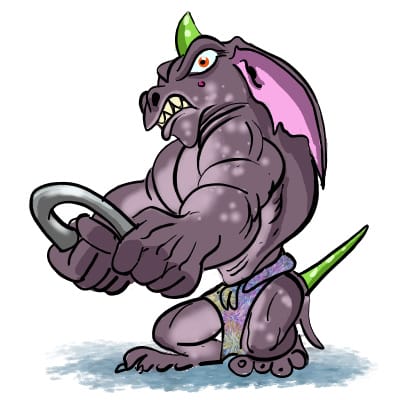 Backstabbing: 2
Dodgin': 1
Guts: 1
Magic Mojo: 1
Smackdown: 3
Eaem
Backstabbing: 1
Dodgin': 3
Guts: 2
Magic Mojo: 1
Smackdown: 1
Eaery
Backstabbing: 3
Dodgin': 1
Guts: 2
Magic Mojo: 1
Smackdown: 1
Ilon
Backstabbing: 3
Dodgin': 2
Guts: 1
Magic Mojo: 1
Smackdown: 1
Irid
Backstabbing: 1
Dodgin': 1
Guts: 3
Magic Mojo: 2
Smackdown: 1
Irord
Backstabbing: 1
Dodgin': 2
Guts: 1
Magic Mojo: 3
Smackdown: 1
Opath
Backstabbing: 1
Dodgin': 1
Guts: 3
Magic Mojo: 1
Smackdown: 2
Ouurd
Backstabbing: 2
Dodgin': 3
Guts: 1
Magic Mojo: 1
Smackdown: 1
Urud
Backstabbing: 1
Dodgin': 1
Guts: 1
Magic Mojo: 2
Smackdown: 3