Welcome home.
This is Audio EXP for the 30th of November 2019, and the title of this episode is 'The Lord of the Rings dies, and China takes on Batman'.
[The following is a transcript of Audio EXP: #20]
If this is your first Audio EXP, then let me quickly tell you what to expect. We'll talk RPG news, comic books and geeky movies. Wizards of the Coast, the publishers of Dungeons & Dragons have had a busy week, so we're going talk a lot about them but first, let's hear about those headlines.
Out of the blue, Cubicle 7 cancelled The One Ring.
That was their excellent The Lord of the Rings RPG. What makes the news even more surprising was that they had not only announced a second edition was due in 2020, but they had also won the rights to actually call it The Lord of the Rings RPG.
Cubicle 7 says that 'contractual differences arose' with their partner Sophisticated Games.
I reached out to Sophisticated Games but have not got a response.
Here's the thing. I can't believe the contract was not signed and sealed. If Cubicle 7 had lost their minds and announced a second edition of The One Ring without Sophisticated Games' approval – and the license, as far as I understand it, is with Sophisticated Games – then the project would have stopped months ago when that announcement was made. It would have ended back when the second edition was first mentioned in error.
That didn't happen.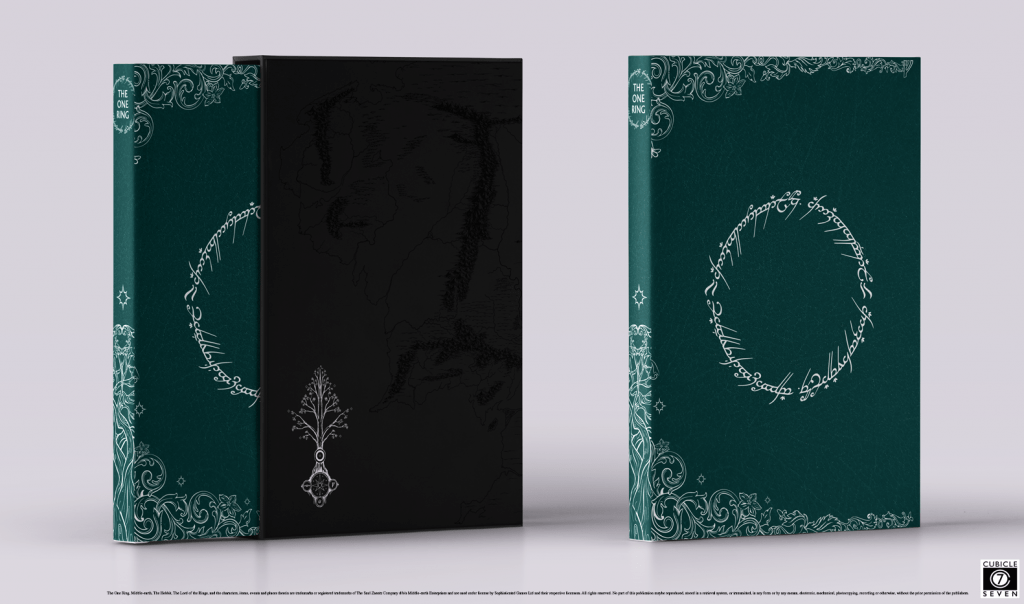 There must have been a point at which both Cubicle 7 and Sophisticated Games were happy with the forthcoming Lord of the Rings RPG.
I suppose Sophisticated Games might have had the cost of holding on their license ramped up, perhaps they tried to pass that on to Cubicle 7, who couldn't afford it. It's all speculation, and we might never know.
What we do know is that this will be expensive for Cubicle 7. It's not just that Cubicle 7 no longer have the money they had been counting on for the second edition to spend, they will never have money from The One Ring RPG ever again as they are walking away from the project. That's one of the reasons they are offering refunds of 125% if you take it in store credit. Cubicle 7 needs now to sell lots of their other lines.
Those other lines are mainly their Warhammer projects. Yes, they do have the Doctor Who RPG, but they made it clear at the UK Gaming Expo this year that the second edition was being worked on, just cautiously as they did not want to take on too much work. Perhaps that will change now.
The Age of Sigmar RPG, Soulbound, is much closer to being finished. They were also given the Warhammer 40K RPG, Wrath & Glory, another surprise move, so as long as Games Workshop likes what they're doing, I hope Cubicle 7 will be okay.
I do wonder about whether or not they need a popular game of their own making though. Surely having a product line that's not a license which could be revoked or charged for will give Cubicle 7 some security. That's easier said than done, though.
The Batman story is just as weird. On social media, some people in China expressed concerns that Batman was backing the protesters in Hong Kong.
DC had posted a cover of the Golden Child story "The Future is Young" with a close up of Batman throwing a molotov cocktail on Instagram.
The Golden Child, in this case, isn't an underrated movie with Eddie Murphy in it but Superman and Wonder Woman's incredibly powerful child.
However, in China there were concerns that 'golden child' was a reference to the yellow worn in previous protests and that 'the future is young' a reference to the students currently on the streets in Hong Kong.
And why was Batman throwing a molotov cocktail? If you ask me, Batman is more than willing to make use of whatever weapon he needs and is available at the time.
However, DC removed the post.
By appearing to remove a Batman cover in response to complaints on Chinese social media platforms, DC is now being accused of pandering to the Chinese.
It's a tricky situation for any multi-national to be in.
What I can say, though, is that the deleted cover was captured by the internet before it vanished and if you want to see it then follow the links in the show notes or pop over to Geek Native for a look.
Right, I said Wizards of the Coast had been in the news themselves so let's start with their very own controversy.
This week's drama is centred around a novel. The Magic: The Gathering story War of the Spark: Forsaken came out recently, and it features the firey Planeswalker Chandra Nalaar.
Chandra Nalaar is often used in Magic: the Gathering promo art as it's a chance to show a powerful woman dramatically throwing waves of flames at her foes. If you sit and watch the video header in Geek Native's Facebook page, you'll see a picture of her drawn by Brad Rigney appear in the montage.
In Magic: The Gathering backstory lore, Chandra has long been in a relationship with another woman; the planeswalker Nisa Revane.
This LGBT aspect of the character, something that is so important to many of her fans, seemed to have been erased from history by Forsaken when she was described as a heterosexual who likes big-muscled manly men.
Some readers don't care what the sexuality of characters in fantasy books are. For others, it matters a lot. Fantasy stories are reflections on our lives, fiction works its magic because it creates a feeling of empathy from readers to the characters in the story. Changing this vital aspect of Chandra upset many.
Other readers just want consistency.
Wizards acknowledged this and apologised.
The RPG news from Wizard of the Coast this week is not without controversy either.
What's happened? There's yet another playtest expansion of D&D 5e and this time Wizards of the Coast are testing rules for psionics and psychics.
There are class options for Fighters, Rogues and Wizards in the shape of the Psychic Warrior, the Soulknife and the Arcane Tradition.
So, why is this controversial?
Well, imagine a scale. On one side you have physically strong classes like fighter and barbarian, and on the other end, you've physically weak classes like wizard and sorcerer. The physically weak classes get access to magic and arcane abilities and so the classes balance.
One common concern is that psionics disrupt this. A Psychic Warrior is a strong and tough fighter who has easy access to magic-like powers. It's just called something else; psionics.
Hey, fighter, did you have to study for those powers and collect rare ingredients and never have time or the physical strength to wear heavy armour? No? You're just special and can attack people from 20 feet away with the strength of your mind.
Some gamers love psionics in their fantasy settings, it's a whole new dimension of possibilities. As with all D&D; you're given the tools to build what you want and it is up to you to use them.
I would say, though, think carefully before adding psionics to your game. Whether it works or not, it's very hard to remove once introduced and will, therefore, change your game world forever.
This week also had some news about the D&D movie. There is a D&D movie happening, that's not speculation, and Spider-man movie writers will be directing it.
ComicBook.com has a tip they're confident enough to share, though, which is about the plot. They think the movie will be about a band of adventurers who have to get The Eye Vecna.
According to the tipster, the Forgotten Realms character Palarandusk will also be involved as the leader of an order of knights. Palarandusk is a Forgotten Realms shapeshifting dragon.
Vecna is a lich that became a god and is typically a Greyhawk villain, but more recently he appears as the Critical Role arch-enemy The Whispering One.
There is one last thing that loops back to the Forgotten Realms, though. That's the Hand of Vecna, which is the artefact often found with the Eye of Vecna. Actor Joe Manganiello's D&D character, Arkhan the Cruel, currently has The Hand of Vecna in D&D cannon and is in Hell trying to use it to free Tiamat.
WizKids will next year release Forgotten Realms miniature set featuring Arkhan the Cruel, showing the dragonborn with The Hand of Vecna, and other characters from his Dark Order.
All of a sudden, Vecna goes from being just a Greyhawk villain to one at the very centre of a lot of big-budget D&D properties.
I'm reminded of Thanos. Marvel had movies about collecting the Infinity Stones which then resulted in that epic showdown. Will we have a series of games – like the Baldur's Gate computer game – and adventures that feature the artefacts of Vecna in the coming years. Will it lead to a showdown with the lich-god.
The last thing I want to mention about D&D on the podcast is that Geek Native has posted a character class word search. You know the thing; a square of letters in which words are hiding. In this case, those words are D&D classes.
Yes, I know, this may have been a 1am on Friday night/Saturday morning, too many glasses of brandy inspired idea, but it's been made and published. Batmon is not a D&D character class. The rest is very easy.
So, that was my bad idea of a week. At least I didn't spend over a million Pounds on a MMO character and then lend that character to a friend.
Someone in China did just that, and then their so-called friend trying to sell it back to them only to accidentally sell it to a stranger for less than £500.
Ouch. Firstly, what a mean thing to do. Imagine ransoming a character you were loaned.
Secondly, you'll be pleased to know that the drama went legal but the wise Chinese judge sorted it out all out with much courtroom faff.
The original player has his million quid character back. The third player who bought a character for £500, what a steal he must have thought he'd made, as been paid compensation by the ex-friend for any inconvenience.
Lastly, and before we go, not all errors are bad ones. Due to a logistics mistake in my favour, I have got an extra copy of Star Trek: The Official Guide to the Animated Series and I'm giving it away. To enter, just follow the link in the show notes or search Geek Native for the Guide and tell me which your favourite Star Trek alien race is.
The competition concludes next week, and we'll try and beat the Christmas mail chaos.
Thanks for listening. Let's catch up next week.
What are your thoughts? Strike up a discussion and leave a comment below.